FATHER: Armine Walker Laughton--JIM
Sharing Stories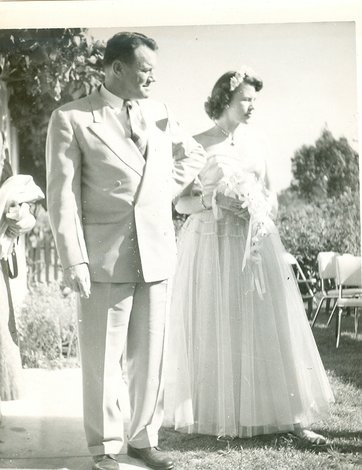 My father was the greatest man that walked. I idolized him. As I was growing up, I saw very little of him. When I was young, he was gone every summer being a counselor at Camp Madomic in Maine. Mother and I stayed in Newton Center, Massachusetts. When my brother was born, naturally, he stayed with us. In the winter, Dad taught school and on the weekends he taught skiing and speed skating. That did not allow much time for his family. When I was learning to roller-skate, I'd see him coming home, so I'd yell, "Watch me!" and immediately fall down and scrape my knees. He'd take me into the house, clean me up, and put on an impressive bandage. My day was complete because I had spent the rest of the day with Mother. After his ministrations, I went out to play…again.
We moved to Newcastle, New Hampshire, for a new chapter in our life--the Second World War. I hardly ever saw him; he was overseas for about two years.
Norfolk, Virginia: I rarely had any time with Dad since he was Headmaster of Norfolk Academy where he was busy raising and teaching other family's boys. He taught during the week and went to school games on weekends.
Then we moved to Oakland, California, and he went to war again, the Korean War. I saw almost nothing of him until we moved to San Diego and then not much because I was in college and busy myself. My father was a figurehead to me, but to my mother, he was her man of destruction: If I did anything wrong like sass her, all hell broke loose when he came home. The lecture on respect was taught again for the millionth time or "thou shalt not make your mother angry" because Dad was sick of doling out the punishment every night. One thing about my father, he dealt harshly with one hand and loved me with the other. At least I had a father, and I know he loved me.
Connie Campbell: An aspiring writer— long time member of the Write about Your Life class at Greenwood Senior Center—who has lived in Wallingford with her husband for fifty years.
SHARING STORIES is a weekly column for and about the 50 plus crowd living in the Puget Sound region. Send your stories and photos to ariele@comcast.net. Tell local or personal stories; discuss concerns around aging and other issues; share solutions, good luck, and reasons to celebrate; poems are fine too. Pieces may be edited or excerpted. We reserve the right to select among pieces. Photos are always a plus and a one-sentence bio is requested (where you live, maybe age or career, retired status, etc.).
SHARING STORIES is featured on www.northwestprimetime.com, the website for Northwest Prime Time, a monthly publication for baby boomers, seniors, retirees, and those contemplating retirement. The newspaper can be found in the greater Seattle area and other Puget Sound locations. For more information, call 206-824-8600 or visit www.northwestprimetime.com. To find other SHARING STORIES articles on this website type "sharing stories" in the search function above.