'Silent brothers' make ideal hiking companions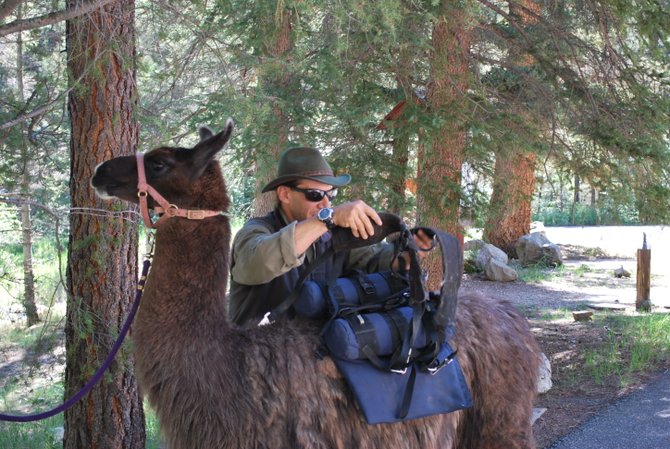 Among those I have taken to lunch over the years, I can now add a llama to my list. My dining companion, K-2, was one of six llamas that accompanied our small group on a recent day trek with Wild Earth Llama Adventures in Northern New Mexico. A handsome blonde and statuesque creature with plenty of personality, K-2 was ever-alert and curious as we hiked the trails in the Columbine Hondo Wilderness Area of the Sangre de Cristo Mountains.
I led my trusted wooly friend through the dense woods, over bridges and into the gentle creeks within this picturesque and unspoiled wilderness. With his leather padded, two-toed feet and natural agility, he walked with a self-possessed air, exuding confidence as he navigated the terrain without faltering, while carrying a load of gear. "Llamas are the perfect low-impact, high altitude pack animal," says Stuart Wilde, owner and head wilderness guide of Wild Earth Llama Adventures. 'They are sure-footed because they have the perfect 'mountain moccasins' - like mountain goats - and they have little impact on fragile wilderness trails. They exemplify the 'leave no trace' ethic we practice and teach out here."
Wilde, who started leading wilderness trips in this area 22 years ago, notes that llamas make great hiking companions, adding, "The word 'llama' in Spanish is pronounced 'yama' and means 'silent brother.' Who else would carry your stuff for miles without saying a word?" He explains that llamas are very intelligent and gentle creatures and adds that like humans, they are equally excited about being out and about in the mountains. They walk at a comfortable pace for hikers at all levels and their keen sense of smell, hearing and sight will often spot a distant herd of deer or elk. They are also extremely lovable animals and bond with people well."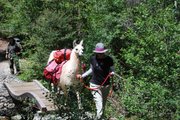 Wilde continues to explain that the llama is a member of the camel family and is one of the oldest domesticated animals with a history of helping people carry their wares for thousands of years. Those that are well-trained will eagerly follow adults and kids alike, which enables outfitters to facilitate wilderness experiences with a wide range of individuals.
Wilde currently has nearly forty llamas at his ranch that he has rescued from unwanted, neglected and often abandoned situations. He receives calls and emails on a regular basis from people and municipalities throughout the Southwest asking him to pick up the creatures and give them a new home. He says, "Many folks get these animals as an exotic pet or breeding investment and sadly, the novelty wears off in a few years or the llama market didn't meet their expectations. Most of the llamas are already adults by the time we get the call and they have usually never been haltered, handled or groomed. Often they are feral and the majority is just plain scared."
Wilde's aim is not to breed or sell the llamas, but simply to provide them with a good home where they can live out the rest of their lives. He adds, "We actually stopped needing more llamas for our trekking operation when we reached sixteen. We do this out of our love for the animals and as a way to give back to them for what they have given our family and to the thousands of people who have trekked with us."