Rose Garden Ceremony
Sharing Stories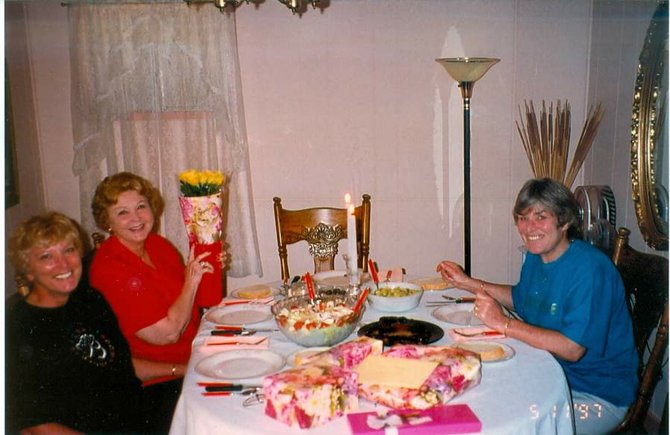 Was it really only Wednesday, July 16, 2014, when I went to the Rose Garden Memorial Ceremony and Reception for the dedication of the granite brick to remember my partner and friend, Yvonne? It was a time to celebrate memories of our years together, and thank the Angels at Evergreen Hospice who had helped her.

From March 2005, she had been hooked to a long clear flexible tube bringing oxygen for her chronic pulmonary disease. She remained at home with me and our dog, Sydney until 2012. We hoped for her to return to us after a quick stay at Evergreen Hospice, but she rested in her hospice room for seven days before departing with the Angels on December 27, 2012, at three in the morning—the light of a full moon shining the way, her ticket punched for a trip to heaven.

I joined a gathering of people, a newly formed tribe connected by the loss of loved ones who had battled illness. Guided by gentle care from doctors, nurses, and volunteers who held their hands, those anxious souls in the waiting room of the final voyage had been comforted. Then, another brick on the path through the rose garden was added. Rose buds burst into a rainbow of color, a whisper of renewal in the cycle of life.
Saying goodbye to Yvonne, I remembered a ceremony ten years earlier, July 21, 2004, the brick with limited words: Loving – Determined, described a tiny view of Mom, who had earned her Angel wings on September first, 2003. Those two words formed a snowflake on top of the mountain of her life. We had never expected to travel the foreign land of hospice. She was tough and would beat the diagnosis of Lou Gehrig's disease. Her mind remained strong as her movements continued to be erased with each new day. Her name etched on a brick in the rose garden, a hospice memory was a small tribute to her life and the beginning of her new journey.
2014: I was greeted warmly by a hospice worker who smiled as she handed me an ice-cold bottle of water that helped to cool an exceptionally hot day. Another cheerful woman appeared, guiding me toward the rose garden. With each slow step, I dripped in sweat, looking like a summer sprinkler flooding a thirsty harvest.

She said, "If you need to rest in this heat, we have plenty of time before the ceremony." I just laughed, answering, "If I fall onto the path, just let everyone step over me like a bump in the road, and pour some water on my head." We giggled at the silliness of my statement.

She asked about the brick I'd come to see. I was surprised how tender my emotions were when I said the words, "My partner, Yvonne," hesitating for a moment thinking of many years of feeling unaccepted, an outsider to the rest of the world. Now, the times are changing, or is it the wisdom of age, being older, and understanding how short life really is?