Seattle's Green Lake Neighborhood is a Top Retirement Destination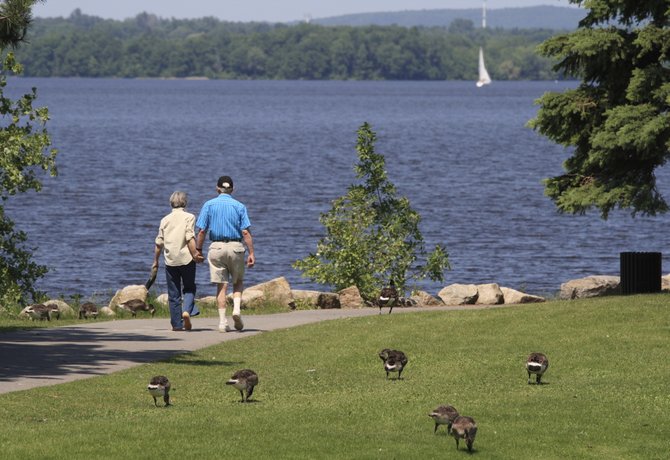 This article is sponsored by the Hearthstone Retirement Living at Green Lake
Seattle, WA - Considered one of the top retirement destinations in the Pacific Northwest and the U.S. - Huffington Post.
When baby boomers think about Seattle, the first things that might come to mind are the misty gray skies and endless showers. Rain or shine, it's hard to find a more thrilling setting, with two glorious mountain ranges rising beyond - the Olympics to the west and the Cascades to the east. Seattle is a dream for hikers, skiers, walkers, and people who love to be near water or just generally enjoy the outdoor life. The precipitation isn't always so much rain as it is a refreshing mist, which usually never stops anyone from biking the Burke Gilman trail, heading to one of their favorite cafes or cheering on their beloved Seahawks, Mariners and Sounders.
Nestled just north of the downtown area is the urban oasis Green Lake. With quick access to city life, this boutique neighborhood offers restaurants, lakeside walks, wine shops, theatres, farmers markets – and it's the perfect option for retirement. Green Lake is your gateway to the best of Greater Seattle. The lake provides a natural park along the shores for daily jogs or walks, bird watching, meditating, kayaking or just sitting on a bench and taking it all in. It is an oasis of culture without the hustle and bustle of downtown. For those who enjoy vibrant cultural activities like the opera, theatre and the eclectic vibe of Pike Place Market, the waterfront is just a hop and a skip away.
Don't want to drive? The public transportation available at Green Lake will take you wherever you need to go. Seattle has become a world-class walkable city. The new Sound Transit light rail connects Seattle to the SeaTac Airport and is rapidly expanding to local areas. Green Lake has one of the highest walkable scores in the Pacific Northwest. According to "Walk Score" (a private company that rates city neighborhoods and provides them with a 'score' based on their walkability) Green Lake is a "walker's paradise" with a score of 92, and where "daily errands don't require a car." Walking is a great physical activity for seniors and the perfect way to stay connected with the scenic community.
Retirement is the most important transition we make in the latter part of life. Seattle, rated 3rd top best places to retire by money.cnn.com, offers more than the usual amenities that people are looking for to retire. Whether you are an adventurist seeking outdoor activities such as walking and water sports, or an intellectual who wants to take advantage of the abundance of cultural gems, Seattle has it all.
With this important transition, you can even find long-term retirement options such as the historic Hearthstone, Green Lake's cherished retirement community for over 48 years and its upcoming Village Cove which offer their residents a full continuum of care. Our communities offer security for the remainder of life with Independent, Assisted Living, Memory Care and Skilled Nursing all available under one roof. Our residents never need to worry about the "what ifs" in the event that their care needs increase. Village Cove, with its vast array of retirement amenities, is the perfect choice for active seniors. If you want more information about retirement at Green Lake, go to: www. hearthstone.org or www.villagecove. org, or call 206-517-2213.
For more on Walk Score, visit: www.walkscore.com/WA/Seattle