An Apple a Day
Tasty and healthy apple recipes from Northwest Kidney Centers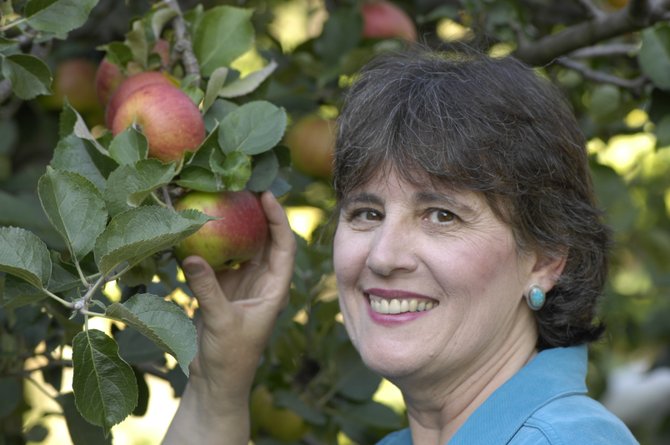 Over half of all apples eaten in America come from Washington state. This is the time of year to take advantage of our state's great local produce!
An apple a day really helps keep the doctor away, especially for seniors. Apples are good sources of natural fibers that can lower cholesterol and help with bowel regularity. They are also low in sodium and low in calories, which makes them great for the kidneys, heart and waistline.
There are more than 200 common apple varieties – plenty to choose from! Some are great for eating fresh, while others are best for pies or baking. Others cook into the most wonderful applesauce. (If you want to test this theory, try baking a pie with Delicious varieties and you will have tasteless mush.)
For apples to eat fresh, try Fuji, Honey Crisp or Pink Lady. Gala apples are also good and have a thin skin, so they are easier to bite into if you wear dentures.
For pies, try Bramleys or Granny Smiths. The best baked apples are Rome Beauties, the shape is wonderful, and they are large enough to stuff. Galas are another good choice for baking.
The best applesauce comes from the 300-year-old apple variety called Gravensteins. Akanes, Jonagolds, McIntosh and Honey Crisps are good as well.

With all these choices, there's plenty of room to experiment. Mix and match varieties to personalize your apple recipes!
Fall Harvest Apple Sauce
It's fun to mix several varieties of apples for this recipe. Taste them first. If they are pleasantly sweet, like Akane, they probably don't need any sugar. If your mouth puckers when you take a bite, try adding about ½ to 1 cup sugar at the end of cooking.
1-3 pounds of apples
½ cup water
Sugar, optional
Cinnamon, optional
Nutmeg, optional
Lemon juice, optional
Peel, core and slice apples.
Put apples in a large, heavy-bottomed pot.
Add about ½ cup of water to keep them from sticking.
Place over medium heat and stir occasionally, about 10-15 minutes, until bubbling hard.
Turn the heat down to low and stir, cooking about 30 minutes more. If you like smooth applesauce, wait until the apples are very soft, then stir hard until lumps are gone.
Keep tasting the applesauce. As it thickens and condenses, it will get sweeter. If it's too tart, now is the time to add sugar, brown sugar or honey. If your apples taste bland, try adding lemon juice and/or cinnamon, a teaspoon at a time.
Serve warm, or store in the refrigerator for about a week. You can also put it into freezer containers, cool and then freeze to keep for one year.
Nutrition information: Calories: 62, Carbohydrates: 16 g, Protein: 0 g, Sodium: 1 mg
Baked Apples
2 firm fleshed apples
2 tablespoons raisins
2 tablespoons chopped walnuts
2 tablespoons firmly packed brown sugar
1 teaspoon grated orange peel
2 teaspoons butter or margarine
Core the apples. Cut strips of peel around the top and the middle.
Place the apples in a microwave-safe dish. (A glass loaf pan works well).
Mix together the raisins, nuts, brown sugar and orange zest.
Spoon the mixture into the apples, dividing evenly. Top with butter.
Microwave on high for 15 minutes or until tender.
Makes 2 servings.
Nutrition information: Calories: 259, Carbohydrates: 48 g, Protein: 2 g, Sodium: 51 mg
Apple Rice Salad
2 cups cooked brown and/or wild rice, chilled
2 cups chopped apple (about two medium apples)
½ cup thinly sliced celery
2 tablespoons shelled sunflower seeds (unsalted)
2 tablespoons balsamic vinegar
1 tablespoon olive oil
2 teaspoons honey
2 teaspoons brown or Dijon mustard
2 teaspoons finely shredded orange peel
1 garlic clove minced
Combine the chilled rice, apple*, celery and sunflower seeds in a large bowl.
In a small bowl, stir together the remaining ingredients.
Pour over the rice mixture; toss gently to coat.
Serve immediately or cover and keep in the refrigerator up to 24 hours and then serve.
*If you're not serving it immediately, chop and add the apple just before serving so it doesn't turn brown.
Makes 4-6 servings.
Nutrition information: Calories: 188, Carbohydrates: 33 g, Protein: 3 g, Sodium: 63 mg
The recipes in this column are meant for people who want to keep their kidney health by following a low sodium diet. These recipes can also be used by people who have stage 1-3 kidney disease, but they may be too high in phosphorus and potassium for some people with stage 4-5. In most cases, except for dialysis patients, a diet high in potassium is thought to help lower high blood pressure. These recipes are not intended for people on dialysis without the supervision of a registered dietitian.
[Katy G. Wilkens is manager of nutrition and fitness services at Northwest Kidney Centers, a nonprofit provider of life-sustaining dialysis, plus kidney education and research. For more information go to www.nwkidney.org]