Clever holiday entertaining shortcuts big on taste, low on stress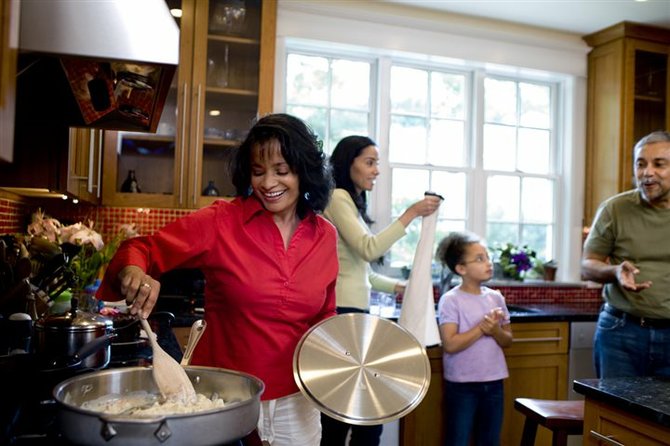 (BPT) - It's the season for entertaining. Between the holidays, family gatherings and just needing an excuse to socialize during the long winter months, you'll probably be organizing several fun parties and gatherings at your home.
If you're dreading the season because it feels like entertaining is so much work, the following tips will help you make this holiday season and beyond a breeze.
Make lists – If you're a mobile device user, get a list started for everything you need. Any time you think of something, be sure to add it to the list immediately, or send yourself a reminder email so you can add it at a later time. These lists will help you keep everything organized and remind you of what you have left to achieve so you aren't scrambling to make an appetizer or clean the bathroom at the last minute.

Take short cuts – Of course you want to show off your cooking skills, but that doesn't mean you need to slave for hours in the kitchen preparing foods. Intricately decorated sugar cookies are as beautiful as they are delicious, but sometimes simple shortcuts – like making bars rather than cookies – can make an event much less stressful. Here's a quick recipe from Simply Organic.
Sugar Cookie Bars
Prep time: 15 minutes
Cook time: 25 minutes
Ingredients:
3 cups all-purpose flour
1/2 teaspoon baking powder
1/4 teaspoon sea salt
1 cup unsalted butter, softened
1 1/4 cups granulated sugar
1 egg
1 egg yolk
2 teaspoon Simply Organic vanilla extract
Frosting:
1/3 cup butter, softened
2 cups powdered sugar
2 tablespoons milk
1/2 teaspoon Simply Organic almond extract
Sliced almonds
Sugar Cookie Bars directions:
Lightly grease a 9x13-inch baking pan. Line with parchment paper so the paper overhangs the edges. In a large bowl, stir the flour with the baking powder and salt; set aside. In a separate bowl, beat the butter with the sugar until fluffy. Beat in the egg, egg yolk and vanilla. Slowly add the flour mixture until fully incorporated. Press mixture into bottom of prepared pan. Chill for 30 minutes and preheat the oven to 350 degrees. Bake for 25 to 30 minutes or until set in the center and edges are lightly golden. Cool completely before frosting.
Frosting directions:
Using an electric mixer, whip butter until light and fluffy. Beat in powdered sugar, milk and almond extract on low speed until smooth. Spread over cooled cookie bars. Sprinkle with almonds. Cut into 32 pieces.
Ask for help – Just because you're hosting the party doesn't mean you need to do all the work. When issuing invitations, specify what kind of a party it is. A potluck is great for family gatherings and parties. Just provide a list of items people should bring on the invite. Once the party is underway, ask a friend to be in charge of keeping drinks filled, and have another friend monitor the music station, so you can enjoy the party as well.

Keep it simple – Often the simplest food options are the healthiest – something your guests might appreciate during this season of indulgence. For example, a fresh fruit or veggie tray is extremely simple to put together, because you won't have to spend time in front of the stove or mix ingredients to bake in the oven. Continue to keep it simple, but add trendy touch by trading out the ranch dressing for a Greek yogurt dip or homemade hummus made with Simply Organic seasoning packets for additional flavor for your fresh fruit and veggie spread.
No matter the type of party you are hosting this season, a few trendy touches and clever food shortcuts will wow guests and keep them raving long after it has ended. Above all else, have fun and enjoy these special moments with loves ones because the memories will last a lifetime.