You don't have to be a celeb to enjoy the star-studded Swiss cities of Lausanne and Montreux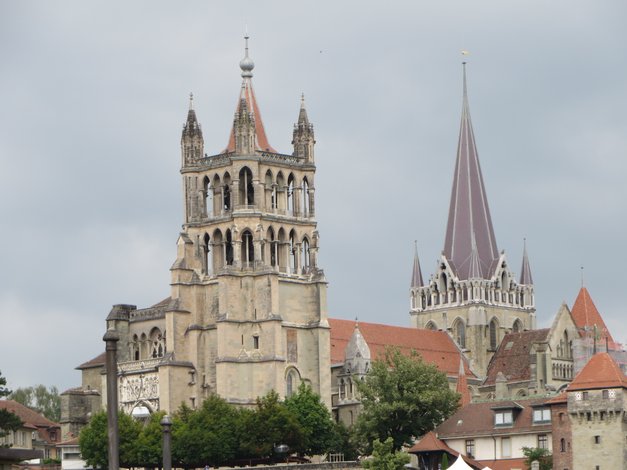 Lausanne is also a magnet for shoppers who flock to Place de la Palud and Rue de Bourg, pedestrian-friendly areas with over 1,500 boutiques and stores, along with colorful open-air market stalls selling everything from flowers to local produce, fish and wine. You'll know you're in the right spot when you see the Fountain of Justice, distinguished by a statue holding a scale in one hand to weigh the soul and a sword in the other to right the wrongs. It's just one of 120 historical and whimsical fountains in the town.
When it comes to nightlife, the Flon district is the place to be. The area was once an industrial hub and architects were careful to preserve the original style of the buildings during renovation. Today, it's a collection of avant-garde-like structures that contain shops, offices, apartments and entertainment venues which come alive when the sun sets and the partygoers appear.
With Lausanne's Lake Geneva backdrop, it's impossible not to want to spend some time near or on the water during your visit. Stroll down the beautiful lakeside promenade, or opt for a boat ride to explore neighboring Evian, France. Though only thirty minutes separates the two cities, they are worlds apart from one another when it comes to culture, people and ambiance.
Finding good food is never a problem in Lausanne or anywhere in Switzerland for that matter. The offerings are versatile, from award-winning fine dining establishments with gourmet cuisine to cozy cafes and trendy bistros that boast inventive and exciting dishes. Sampling Swiss chocolates is an activity in and of itself and a pursuit I took very seriously, especially when I was informed by a noted chocolate maker that eating chocolate or imbibing a chocolate beverage should be an intensely emotional experience. He emphasized the power of fine chocolate on one's psyche, explaining that it has the ability to make you dream and to set your mind free. My favorite find was at Le Barbare, a tiny café by the cathedral in Old Town. The place has achieved cult status thanks to its original 1950s décor and its sublime, swoon-worthy hot chocolate, whose aroma envelops you as you enter the door. You'll want to keep your spoon handy, as this is one cup of cocoa that you actually eat, not drink.
Though sadly you won't be able to see Charlie Chaplin, Coco Chanel, Lord Byron or Freddie Mercury around town, you might catch a glimpse of some other celebs if you stop in at the bar at Beau-Rivage Palace, one of the most prestigious hotels in the city. It's where the stars like to stay and for Diana Ross, as well as Phil Collins, it's also served as the perfect wedding destination. Stroll the gardens and you'll come across an unusual site – a pet cemetery – where Coco Chanel's beloved dog is purported to be buried, along with other pooches of note.
Lausanne provides easy access to the nearby UNESCO World Heritage Lavaux Vineyards. Even if wine is not your thing, you'll want to put this Swiss treasure on your list due to its jaw-dropping setting. Ten thousand vine terraces, a system created by Cistercian monks in the 11th century, hug the steep slopes that face the Alps above the shimmering waters of Lake Geneva. This is the birthplace of the Chasselas grape variety, a wine appreciated for its pure scents and delicate fruit notes. Other varietals grown here such as Pinot Noir, Gamay, Cabernet Franc, Gamaret and Sauvignon are testimony to the richness of Lavaux's terroirs which benefit from a temperate climate and a Mediterranean character to the region. Patrick Fonjallaz is one of 250 vineyard owners in the Lavaux region. He is the successor of twelve generations of wine producers, a wine dynasty established in 1552. His winery is destination-worthy, not only because of the high quality of the wines, but because of its breathtaking views of the surrounding environs.