A Sparkling, Spotless Home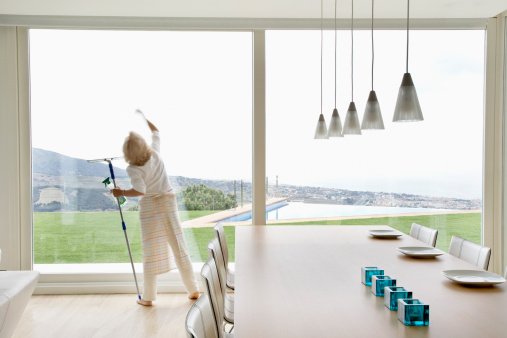 (Family Feature) Do you need to tidy up your home for spring? This vibrant season lends natural inspiration to home cleanup projects in every room. Whether you need to provide some overdue TLC to the tub, want a solution to freshen up the floors or long for laundry care that is safe for your family, refer to this guide for tips that will make your home feel shiny and new again.
Easy to Manage and Maneuver
If dragging a cumbersome vacuum from room to room isn't your idea of a productive cleaning experience, consider a smarter option. The Hoover Air Steerable Bagless Upright offers a lightweight unit that lifts and removes deeply embedded dirt with three suction channels. The Hoover Air Steerable also features a maneuverable design, allowing you to swivel and turn around furniture and objects with ease, and a low profile to reach underneath them. For more information, visit www.hoover.com.
Spring Cleaning Made Easy
Busy parents know that everyday messes and tough stains can happen anywhere. Krud Kutter offers a full line of green cleaning products that are tough on krud, but safe for the user and environment. Try the Original Krud Kutter formula, which easily removes tough soils quickly and effectively from a variety of different surfaces. For a well-rounded clean, try the line's bleach-free House Wash or Mold and Mildew stain remover formulas. For more information, visit www.krudkutter.com.
A Gentle Clean
Give your clothing a clean that's safer for your family and better for the environment. With no harmful chemicals, Ology Laundry Detergent in Spring Lavender & Vanilla scent is free of dyes, phosphates, chlorine bleach, formaldehyde and artificial fragrances. Tough on stains but gentle on skin and clothing, it's compatible with high efficiency and conventional machines. Ology household, cleaning and personal care products are available exclusively at Walgreens. For more information, visit www.walgreens.com/ology.
Tree-Free Paper Towels
Wipe up messes without worrying about impacting the tree population with a 100 percent tree-free paper towel. Made from readily renewable sugar cane husk and quick-growing bamboo, Ology Ultra Absorbent Two-Ply Paper Towels are a better option for the environment, leaving behind a healthier world for generations to come. These biodegradable paper towels maintain softness and absorbency to quickly wipe up a variety of messes. Ology household and personal care products are available exclusively at Walgreens. For more information, visit www.walgreens.com/ology.