A Tale of Volunteering
From the Caribbean to Seattle on a Trail of Stories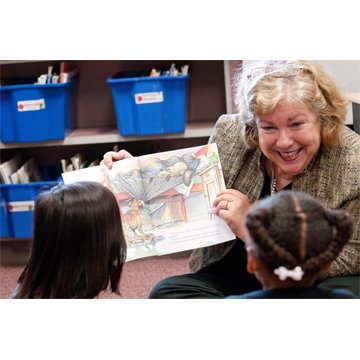 Paying it forward is the principal reason I volunteer for Page Ahead.
Unlike my own kids and me, many of the children Page Ahead helps are growing up in poverty, with little or no access to books they can call their own. Their caregivers may not be willing or able to read with them, or may lack confidence in their ability to make it a fun shared experience.
For me, the Story Time program has meant a joyful opportunity to continue to share with young children my love of reading, books, and stories, now that my son and daughter are both teenagers. Some Story Times go better than others. Some days can be challenging. However, I have never left my Story Time classroom without a smile in my heart. It makes me happy to think that I am offering these children some small measure of help as they learn to think of stories and books as friends: faithful, reliable, lifelong friends that can offer comfort, encouragement, laughter, inspiration, and adventure, all by turning a Page Ahead.
Would you like to become a Story Times volunteer, and bring reading fun and inspiration to children in need? Call or email Jacki Crowther at Page Ahead, 206-461-0123, jcrowther@pageahead.org