Quincy Jones
Seattle's Own Music Man
September 1, 2013 at 11:59 p.m.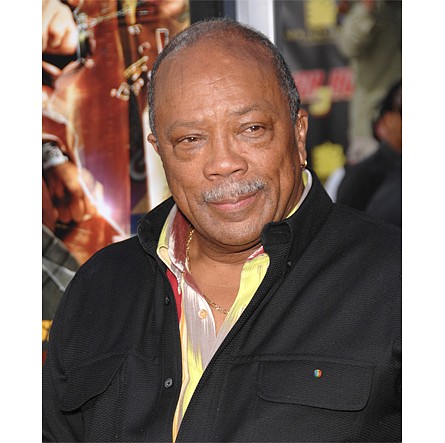 ---
Music legend Quincy Jones has had one of the longest, most successful careers in popular music. The world-renowned record producer, conductor, arranger, film composer, television producer, and trumpeter, was inducted into the Rock and Roll Hall of Fame on April 18. He has been nominated for a record 79 Grammys – won 27 – and in 1991, he received the Grammy Legend Award. He turned 80 in March.
Jones has worked with a long list of artists including Frank Sinatra, Ray Charles, Dizzy Gillespie, Tommy Dorsey, Duke Ellington, Miles Davis, Dinah Washington, Sarah Vaughn, Lesley Gore, Aretha Franklin, and Michael Jackson, to name just a few.
In 2008, Seattle's Garfield High School—Quincy Jones' alma mater—opened the Quincy Jones Performing Arts Center as part of the school's renovations. The namesake of that new center was in town for the dedication. He remains a good friend to his former hometown of Seattle, where his youngest brother, Richard, is a federal judge.
Quincy Delight Jones, Jr., known as Q to his friends, was born in Chicago on March 14, 1933. When he was 10, his family moved first to Bremerton and then to Seattle, where Jones began playing trumpet. "Every day, my daddy told me the same thing. 'Once a task is just begun, never leave it till it's done. Be the labour great or small, do it well or not at all.' "
While still a kid, Jones met a fellow musician by the name of Ray Charles. "At 14 and 16 we used to sit in Seattle on those rainy days and dream about what would happen." They became close, lifelong friends. In those early days they played and wrote music together, and watched the big-time acts that came through Seattle. "Most people don't understand; Seattle was one of the jumpin'-est, hottest towns in America during World War II," Jones was quoted in the book, The Complete Quincy Jones: My Journey & Passions (2008). "It was on fire." While still in school, Jones had already started playing professionally in several local bands.
Jones recalls his time in school. "I got in the school band and the school choir. It all hit me like a ton of bricks, everything just came out. I played percussion for a while, and stayed after school forever just tinkering around with different things, the clarinets and the violins." In 1951 Jones won a scholarship to Seattle University, where a young Clint Eastwood—also a music major there—watched him play in the college band. Eastwood, a noted jazz aficionado, wrote the foreword to The Complete Quincy Jones. After only one semester, Jones transferred to what is now the Berklee College of Music in Boston on another scholarship. But an offer from Lionel Hampton to tour as a trumpet player with his band pulled him away from college.
"I was 18 then, and I was ready. And I told the school I'd be back, but I guess down inside, you know, when you go with a band like that you never go back," said Jones to NPR's Terry Gross. She points out that while Quincy Jones started his career as a trumpeter, he didn't become a noted instrumentalist. What made him famous and wealthy was his work as an arranger, composer, producer and media mogul, work that spans from the big bands through bebop, pop, movie soundtracks, film scores, TV themes and hip-hop.
While on the road with Hampton, the young Jones showed talent as a song arranger. He left Hampton's band in 1953 and moved to New York where he began arranging songs for several notable singers.
Jones, who later become an executive at Mercury and A&M music, eventually formed his own label, Qwest Records. Despite suffering two brain aneurysms in 1974, Jones did not slow down.
"I may be the only person on the planet to have attended my own memorial service," writes Jones in The Complete Quincy Jones. "In 1974, after my first aneurysm, it didn't look like I'd make it, so my friends planned a memorial service. Well, I made it, but they had the concert anyway." After his aneurysms he produced albums for Aretha Franklin, George Benson, Michael Jackson, the Brothers Johnson and others. He produced Off the Wall, Thriller and Bad for Jackson. Thriller has sold more than 110 million copies and is the best-selling album of all time.
Jones believes in giving back. In 1985, Jones used his influence and connections to convince many major artists to record the song "We Are the World" to raise money for famine relief, and he has formed many charitable organizations throughout his lifetime. "You make a living with what you get, and you make a life with what you give," he says. In an interview with Success Magazine, Jones says that philanthropy should be a part of everybody's life—whether celebrity or not. "That, to me, is like the laws of being alive. To give and expect nothing in return—there's nothing that feels better."
Jones continues to work and make appearances on TV shows and in documentaries about popular music. He enjoys spending time with his large, extended family.
"When life begins to seem like too much, we should take a moment to let the soul catch up with the body. Go out and find a song you love, a poem that touches your heart, and take the time to let the whisper of Heaven's voice come into your mind. Every day that you wake up and are still above the ground—that should be the only reason you need to be happy." –Quincy Jones
---