Hitting a High Note
Orchestra leader Marcus Tsutakawa and jazz band conductor Clarence Acox inspire music students at Seattle's Garfield High School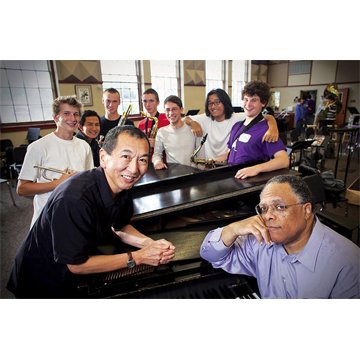 You know the scene: a shabby stage crowded with eager high school musicians. A young director steps onto the podium, raises his baton, waves that first dramatic downbeat – and for the next couple of hours the audience of parents, reluctant siblings, and loyal friends endures "music" punctuated by tempos that drag, clarinets that squeak, and violin solos only a parent could love.
High school music is what it is – usually tolerable, now and then pretty good. Except in Seattle, and especially at James A. Garfield High, where it is exceptional, featuring arguably the best program in the nation among public high schools. Ask people here why the school is so successful, and they'll give you two reasons: drummer Clarence Acox, who leads the jazz ensembles, and bassist Marcus Tsutakawa, who conducts the orchestras.
"They set this expectation for excellence, and they know the kids can achieve it," says parent Laurie de Koch, whose son Bergen plays the trumpet in both orchestra and jazz ensemble. "What if every educator had an expectation for the achievement of excellence in every student? It would change the world."
It certainly has changed things at Garfield. The jazz ensemble has won the prestigious Essentially Ellington competition sponsored by Jazz at Lincoln Center four times since 1999 and has toured Europe ten times since 1991.
The orchestra has been named Downbeat magazine's top high school orchestra of the year four times since 2001, including a win this year, and has toured Europe and Japan six times. And they have played at New York's famed Carnegie Hall. The orchestra also produced a recording nominated for a Grammy.
The programs don't cater to just an elite few.
"My mission is to teach all the kids about classical music – not just the kids who have had private lessons since age 5," says Mr. Tsutakawa, who this year, his 29th at Garfield, has about 180 students spread among three orchestras. "Kids from disadvantaged homes, first-generation Asians – I'm really proud of the fact that these kids have this experience. If they didn't play in orchestra, they wouldn't be exposed to all of this great art."
Tsutakawa and Acox credit their support networks, including past and present principals, music-faculty colleagues, and especially the orchestra and jazz parent groups, which raise tens of thousands of dollars each year for the programs.
"I don't count on the school district for anything," Tsutakawa says softly. "Because of my parent group, I have the freedom to buy everything I want – music, instruments, travel. We bought a $3,000 string bass. I spent $700 or $800 on new music. We have received a $10,000 gift from the parent of a former student."
Adds Acox, in his patient New Orleans baritone, "I always say this: that administrators who only focus on math, reading, and science are not thinking big enough – because we need to be about the business of educating and developing the total student.
"I know for a fact that there are kids who would not be in school if there weren't music programs. Kids who are involved in the arts – there's a much better correlation of them succeeding."