Tips for Planning a Winter Adventure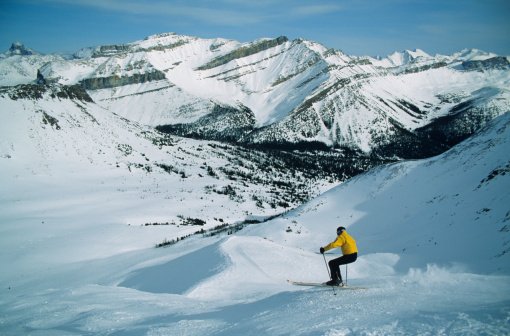 If you're looking to put some adventure into your winter travel plans, you might want to consider heading north to Alberta, Canada.
Located in the heart of western Canada, the province of Alberta is bordered by the Canadian Rocky Mountains. The terrain is as vast as it is varied in landscape and experiences, offering unique activities, urban charms and breathtaking vistas for you to discover.
From dog sledding and skiing to snowshoeing and ice canyon walks, Alberta offers a wide variety of vacation options for a wide range of people – whether you are a true adventurer, are craving a week of pampering and relaxation, or want the family to have an authentic winter wonderland experience.
You can board a snowcat before skiing through untouched powder in Alberta's backcountry. Or buckle up the snow shoes to hike through Canada's largest ski area, Lake Louise. You'll be back in time to enjoy lunch at the beautiful Fairmont Chateau overlooking the frozen lake.
For those who want to relax, take up the breathtaking scenery from more refined vantage points, such as Banff and Jasper, UNESCO World Heritage national parks in the Canadian Rockies. Check out the luxurious accommodations, book a spa appointment, or head into town for amazing shopping and a wide array of fine dining options.
To make sure you are prepared for the best winter trip possible, make sure you follow a few simple tips:
• Shop around for good deals. In Alberta, winter is not considered a peak season, so prices on hotels, lift tickets, rentals and activities are generally lower.
• Pack the passport. Have proper paperwork. U.S. citizens have to carry a U.S. passport to enter Canada, and to re-enter the U.S. from Canada.
• Bring the coats and the sunscreen. Alberta is blessed with over 300 days of sunshine each year, so when visiting, be sure to pack your sunscreen along with your favorite parka and clothes for plenty of layers.
• Get around easy. There are a variety of transportation options upon your arrival in Calgary, Alberta. You can rent a car, or if you prefer, grab a Brewster shuttle and be in the picturesque mountain town of Banff in two hours flat. Rental cars are equipped with all-season tires, and roads are well-maintained, but make sure you are comfortable driving in winter conditions.
For more information, or to begin planning your winter adventure in Alberta, visit www.TravelAlberta.com.