Chris' Corner: Living Life with Memory Loss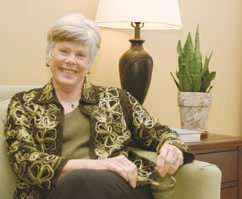 This summer, my sister and her husband visited again from Germany. When they visited a year ago, my sister, Marilyn, had definite signs of dementia. My brother-in-law, Helmut, was just beginning to absorb the incredible emotional and physical responsibility associated with being a caregiver. He had come to recognize that his days were chiefly spent meeting my sister's basic needs.
In the past year Marilyn has been diagnosed with dementia and my first impression was that Helmut was much more settled into his role as caregiver. As many readers will know, the task of acknowledgment and acceptance is monumental enough when facing the reality that our loved ones are wrestling with dementia. Beyond that, the practical and psychological skills demanded of caregiving take time, resources, education and patience to develop.
That said, it was still a joy for me to spend time with family, especially when I came to realize that this visit represented a well-deserved respite for my brother-in-law. When it came time for them to leave, Helmut said something that left a deep impression with me. "This really is going to be paradise lost," he said.
Helmut understands dedication. His life and passion is music, and he still plays the violin. It's difficult for him to accept that his wife no longer has any inclination to join him playing her viola—a once beloved pastime. He is the consummate musician. He cultivated and developed two orchestras into seven, accommodating all levels of musicianship at the music school where he taught for most of his professional career.
During their visit this summer, Helmut was able to enjoy some much-needed reprieve from caregiving. He would practice his violin for four hours every morning, while I spent time with my sister, supporting or assisting her where necessary. During our time together, I realized how many spouse-caregivers are not ideally equipped with the knowledge of how best to help a loved one get up out of a chair, take a shower or get dressed. I did what I could to offer Helmut what advice and tips I could, but I realized I was again facing the all-too-familiar scenario in which more help and support would be of invaluable service to all involved.
In the afternoons, they'd rest and rise for late afternoon tea and cakes. After this, we'd go for a walk. Having grown up by the water, Helmut loved taking walks along Seattle's waterfronts. We'd spend many a lazy afternoon taking in the sights, gently strolling along the shore at Seward Park, Shilshole or Alki. These simple rituals, exercised as daily routines, were heaven for Helmut and sheer delight for my sister and me.
Sometimes, silence enjoyed in the presence of loved ones is enough, delivering a rich, settled satisfaction that only comes in the trusted, comfortable presence of those closest to us. When it came time for conversation, as I knew it would, I was ready. He doesn't yet have the answer—and certainly, both he and Marilyn have the support of their children in Germany. But we all know that eventually more is needed—to enhance quality of life for all parties involved.