Pierce County Library System Receives National Medal for Museum and Library Service Today in White House Ceremony
Celebration Featuring First Lady Michelle Obama Highlights Impact of Washington Library System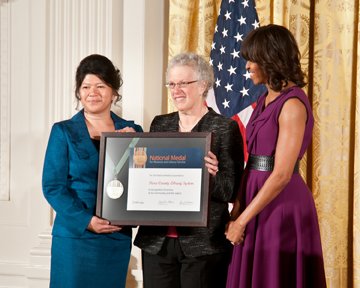 On May 8th, in a White House ceremony in the East Room, First Lady Michelle Obama presented the 2013 National Medal for Museum and Library Service to the Pierce County Library System. The nation's highest honor conferred on museums and libraries for service to the community, the National Medal celebrates institutions that make a difference for individuals, families, and communities. Neel Parikh, executive director, and community member Jo Cruz accepted the National Medal.
Spanaway resident Jo Cruz took her young children on frequent trips to the library. Picture book browsing and story time have evolved to sophisticated research, as her son prepares to graduate high school this spring. Jo's parenting experience showed that a foundation in literacy greatly impacts children in preparation for their future. Now, as a child care professional, Jo is committed to supporting this idea and plans early literacy activities for the children in her care. The library is a major resource for Jo – providing idea kits, materials, and even hosting block parties and group meetings for child care professionals. "Families, child care professionals, and our Pierce County Library System are team players in this community. It is reassuring to know that the success of our children is supported by passionate people concerned about the future of our little ones," said Jo.
"Museums and libraries serve as centers for lifelong learning and as cornerstones for our communities. Pierce County Library System is conducting their own research and implementing authentic solutions to lead the way in early literacy, to support diverse constituencies, and to create meaningful partnerships. We are very proud to name Pierce County Library System one of this year's National Medal for Museum and Library Service winners," said Susan Hildreth, director, Institute of Museum and Library Services.
This year's 10 honorees exemplify the nation's great diversity of libraries and museums and include a science center, children's museum, music museum, art museum, cultural museum, public libraries, and county library systems, hailing from seven states. The 2013 National Medal for Museum and Library Service Ceremony will be streamed live on www.whitehouse.gov/live beginning at 1:30 p.m. EDT.
"I am so proud of the Pierce County Library System and congratulate them on this well-deserved honor," said U.S. Senator Patty Murray (Wash.). "Libraries play a critical role in our communities by providing children and adults opportunities to enrich their lives. The Pierce County Library System goes above and beyond by engaging with the community and providing access not just to educational materials, but to a variety of reading programs, career training resources, and more."
"I want to congratulate the Pierce County Library System for winning the National Medal for Museum and Library Service," said U.S. Senator Maria Cantwell (Wash.). "The Pierce County Library System is one of just 10 national winners of this award this year, which is a testament to its leadership in promoting early literacy and learning in Washington state. These libraries are also hubs for the community with resources for job seekers and small business owners, and unique programs for military families and children with special needs. Thank you to the library system's leadership and staff for the hard work in earning this significant award."