The Charitable Gift Annuity
A Gift That Gives Back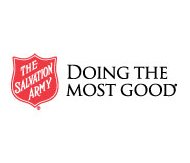 How many of us have tossed coins or bills into a Salvation Army kettle at Christmas or responded with money, food or clothing in the face of a disaster? For many of us, giving is almost automatic – a natural response to a perceived need. Last year these gifts helped The Salvation Army provide services to over 30 million individuals nationwide—that's almost 10% of the U.S. population!
Charitable giving begins in the heart, nurtured by compassion and strengthened by gratitude. As we reach out to help others, foster change, or right a wrong, we give ourselves a greater sense of understanding and community. The joy of giving is indeed a unique and precious reward. Yet we often don't take the time to seek out information that will help us to give more efficiently and effectively.
Many of us have assets that provide income to meet our lifestyle needs. While we don't anticipate having to sell the assets to meet those needs, we don't feel we are in a position to give them away. In these circumstances, a well-planned "life income" gift may allow you to make a gift AND receive an income and one of the most popular life income gift arrangements is the charitable gift annuity.
What is a charitable gift annuity?
The name says it all. It's both a charitable gift and an annuity. It's an uncomplicated gift, and one that is very popular because both you and The Salvation Army benefit from the arrangement. Gift annuities allow many donors the opportunity to make significant gifts they may not have thought possible.

A charitable gift annuity is a simple contract between a donor and The Salvation Army. In exchange for an irrevocable transfer of cash or appreciated property, The Salvation Army will agree to pay you and/or your designated beneficiary a fixed amount in regular intervals for life. The payout rate depends on several factors. The most important is the age of the annuitant. Another important factor is whether the income is to be paid for one or two lifetimes. Currently payout rates range from 5.3% to 10.5%. The minimum annuitant age is 55 and the minimum gift amount is $5,000.
Gift annuities also qualify for significant tax benefits. You will receive an immediate charitable income tax deduction in the year of your gift. In addition, if you transfer appreciated property in exchange for a gift annuity, any capital gains tax liability due on the transfer will be reduced and spread out over your life expectancy. Plus, part of your payments will be tax-free until you reach your life expectancy as measured at the time you set up your gift. You can also choose to defer payments to a later date, such as retirement. By deferring the payments several years you will receive a higher payout rate than a standard gift annuity and receive a larger income tax deduction as well.
Finally, and most importantly, your gift will support The Salvation Army and those it serves in a significant way.