Seattle's Own "The Coats" - Four Part Vocal Harmony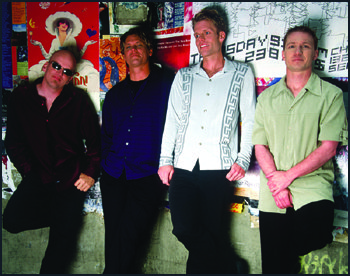 The Coats vocal band started on the street corners of Seattle's famous Pike Place Market. This premiere a cappella band will perform the exciting harmonies that swept them from the street corners and onto the stage at Northshore Performing Arts Center on Saturday, April 13 at 7:30 p.m.
Singing for tourists, locals, fish vendors, and fellow buskers, their humble ambitions of earning a few clams to fight off the tuition bills quickly evolved into a full-time international performance career. They've since won national vocal competitions, sang for the President of the United States, and have been fortunate enough to share the stage with such talented fellow entertainers as Ronnie Milsap, Trisha Yearwood, Montgomery Gentry, The Beach Boys, Tanya Tucker, Billy Dean, Crystal Gayle, and Colin Ray, just to name a few, all while continuing their tradition of outreach performances and workshops supporting music in schools throughout the northwest.
Join The Coats at the Northshore Performing Arts Center for a lively evening of pure harmony.
Adults $29
Seniors $25
Youth under 17 $15
The Northshore Performing Arts Center is a state-of-the-art, 600-seat theatre located on the Bothell High School campus at 18125 92nd Ave. NE in Bothell.
For more information or to purchase your tickets, visit www.npacf.org.
The Northshore Performing Arts Center Foundation was established by Northshore-area residents (Bothell, Kenmore, Mill Creek, and Woodinville) dedicated to a cultural center for performing arts and engaging children in global, creative, educational programs. NPACF is a federal 501(c)(3) non-profit corporation. Visit www.npacf.org for more information.
Editor's Picks