Meet Dotti Lydon
Jun 1, 2013, 6 a.m.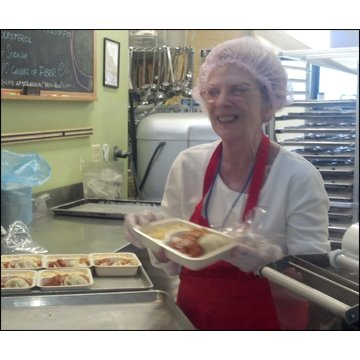 On May 9, Dotti Lydon received the Inspire Positive Aging Award from Senior Services, a Seattle based non-profit organization serving older adults. The award is given out each year to senior individuals whose lives are marked by engagement and service.
Dotti, a retired nurse, started volunteering at Lifelong's Chicken Soup Brigade kitchen in 2011 at age 76. She works 3-6 hours a week, usually on Fridays. On any given day you might see Dotti peeling and dicing 100 pounds of potatoes, slicing 75 pounds of carrots, or helping package 250-400 meals during her shift.
"Dotti has the energy and stamina of a 25-year-old," states Wendy Northcutt, Lifelong's Executive Chef.
The kitchen isn't the only place where Dotti donates her time. She volunteers in the Prevention Department and makes condom kits. At a barbeque last summer, Dotti told her friends that they
couldn't have anything to drink until the kits were made. According to Dotti, "You've never seen anyone work so fast."
Dotti chose to volunteer at Lifelong because the work of the organization hits close to home. A few members of her family are currently living with HIV. She sees firsthand the support Lifelong has
given the community, and knows Lifelong's services save lives.
Dotti wants to serve as a role model to fellow older Americans and hopes she will ignite an interest
in volunteerism. She is one of the only individuals in her senior housing community that volunteers.
She speculates that this is due to the challenges seniors face with transportation as well as a simple
lack of awareness in opportunities available to seniors. She is also hopeful that organizations, like
Lifelong, start to target seniors more often in volunteer recruitment efforts.
"I want to inspire adults like me to volunteer and encourage organizations to notice the talents and abilities of older people," Dotti says. "To me, this is not a job. It's an opportunity. I cannot wait until
Friday gets here."
When she's not volunteering at Lifelong, Dotti enjoys surfing the web and spending time with friends.
Lifelong's volunteer program welcomes volunteers of all ages (though you must be at least 14
years old). Volunteers work in the kitchen, deliver meals and groceries, help out at special events, and work at the front desk. For more information visit llaa.org/volunteer or call 206-957-1776.