Dishing It Up at Fort Nisqually
NPR Food Personality Among Judges for What's Cooking at Fort Nisqually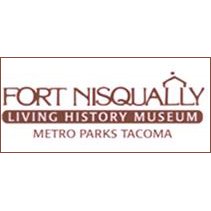 Tacoma - The smell of campfires and simmering stews will greet visitors during "What's Cooking?" at Fort Nisqually Living History Museum June 15, 11am-5pm. This year, celebrity guest judge Dick Stein, co-host and producer of KPLU's Food for Thought, will help select the winner of the event's cooking competition and award the "Golden Skillet."
The Fort's re-enactors will cook on a wood stove and over numerous campfires. "Visitors will get to see how we cooked and what we ate during the mid 1800s," said Mike McGuire, Fort Nisqually's Education Curator.
Cooks competing for the Golden Skillet will do their best to impress Stein and other judges with the taste and presentation of their dish. Perhaps it will be succulent salmon, tender bacon biscuits, or fruit pies. They will also try to sway the judges with a compelling story about how they created their tasty dish at Fort Nisqually in the 1850s.
The day's activities will include a presentation by Lawrence Bradley, a long-time Fort volunteer with extensive knowledge about 19th century cooking. One of the newest acquisitions to its Fort's collection, an 1840s butter churn, will be featured with a demonstration about all things butter related — churning, paddling, and molding.
Visitors of all ages can enjoy playing games, taking a turn at churning butter, and engaging in conversations with dozens of re-enactors throughout the Fort, including blacksmiths, wool spinners, trappers and traders, laundresses, and ladies and gentlemen.

Located in Tacoma's Point Defiance Park, Fort Nisqually Living History Museum is a restoration of the Hudson's Bay Company outpost on Puget Sound. Visitors travel back in time and experience life in Washington Territory during the Fur Trade era. Nine buildings are open to the public, including the Granary and the Factors House, both National Historic Landmarks, and a Visitor Center with Museum Store.
For information and admission, call (253) 591-5339 or go online to fortnisqually.org.