Life After 100? You Better Believe It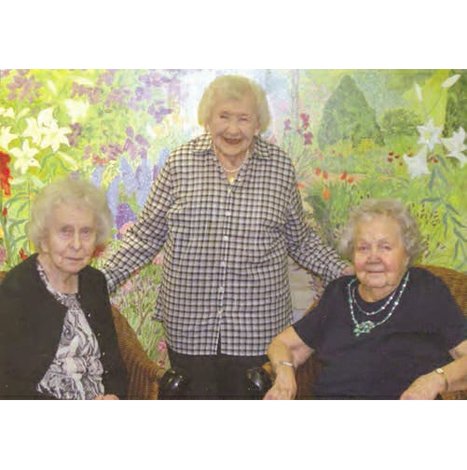 The state of Washington was barely out of its infancy when the year 1911 rolled around. In Olympia, Mr. Marion Hay was settled in the governor's mansion, and in Seattle, the Union Railroad Station opened its doors to train passengers. In Ballard, the Chittenden Locks were completed, and on October 27, Elve Fathers, daughter of a Swedish-Finnish couple, was born. Two days later, in Carbonado, a mining town near Mt. Rainier, another girl, Sylvia Crosetto, was born. And 10 days after that, back in Seattle, came the news of the birth of Margaret Lihou.
Today, Elve, Sylvia and Margaret are more than 101-and-a-half-years-old, and all three are residents of the same Seattle retirement community. Both Elve and Sylvia have roots in Finland, both are college graduates and both, long-time teachers. Elve's father, a carpenter, built a house for his family in what was a sparsely settled part of Ballard. "I walked to school, carrying a lunch pail," recalled Elve, smooth-cheeked, graying hair and a firm handshake. "I was pleased when Mother gave me coins to buy lunch there. I LOVED school." She and an older sister took piano lessons, which she also enjoyed.
Those lessons must have been the spark that led Elve to major in Music Education at the University of Washington. As a 1934 graduate, she began a more than 40-year career as a music teacher, first at Bellevue High School and then in the Kent and Edmonds schools, teaching all grades. She especially enjoyed the singing classes, operettas and vaudeville. "I held music programs in the evening so both of my parents could hear them," she added.
Elve continued to teach after her marriage to Russell Fathers in 1952, and then started a new life when she retired from her long career in 1975, helping her husband with his dry cleaning and laundry business. After his death, she traveled extensively in Europe, Canada and the U.S. She settled in a retirement community, saying, "I like it here. Friends and former students come to visit me and I can attend music programs." In 2007, Elve was given the Ballard High School Foundation Award for Exceptional Achievement in the Field of Music, an honor indeed.
Elve is acquainted with Sylvia Crosetto who resides in the same retirement community. Sylvia's father was a coal miner in Carbonado, but soon after her birth, the family moved to Winlock in Lewis County, where he ran a chicken ranch. "We children had our chores to do," said Sylvia. With her youthful face and hairdo, she could pass for 80! The fact that her older brother attended Washington State College prompted Sylvia to pursue her education there too. After earning a teaching degree in business in 1933, she set off to Newport, north of Spokane, for her first teaching job. There she met another teacher, Fred Crosetto and they were married the following year. When Fred accepted an assignment with the Forest service, the Crosettos moved to Cashmere where their first son was born. Four years later, he took a teaching position at Franklin High School in Seattle. Sylvia put her career aside for awhile to care for her family, including another boy and a girl. She went back to teaching part time when the children were old enough to go to school, and later began teaching typing full-time at Edison Technical School. After retirement, Sylvia and Fred enjoyed traveling from coast to coast and participating in activities with their large family, including ten grandchildren.