The Boys in the Boat
New book telling the story of the 1936 University of Washington rowing team launches in Seattle this month; Hollywood movie is in the works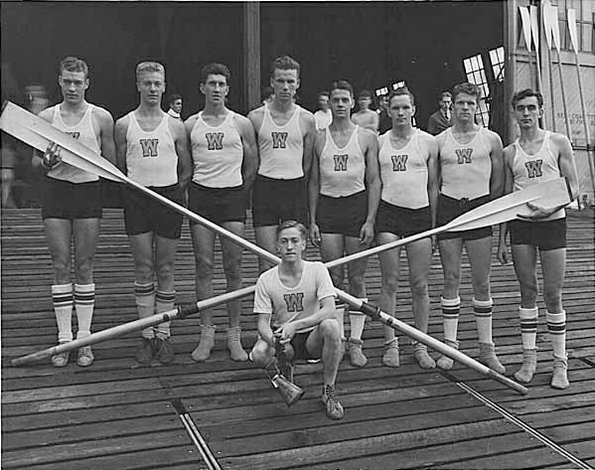 Sometimes a book comes along that is a true gift and The Boys in the Boat: Nine Americans and Their Epic Quest for Gold at the 1936 Berlin Olympics, by Seattle-area author Daniel James Brown, is one of those books.
"This book was born on a cold, drizzly, late spring day when I clambered over the split-rail cedar fence that surrounds my pasture and made my way through wet woods to the modest frame house where Joe Rantz lay dying."
So begins The Boys in the Boat—the irresistible, dramatic, and poignant story behind the triumph of the University of Washington American rowing team that stunned the world at Hitler's Olympics.
Brown was introduced to Joe Rantz and his story on a chance encounter with his neighbor, Joe's daughter Judy. "One day about six years ago, my neighbor, a lady in her mid-sixties who I knew only as Judy, came up to me after a homeowners' association meeting. She said her father, who was in the last weeks of his life and under hospice care at her house, was reading one of my earlier books. He was enjoying it and she wondered if I would come by and meet him. Of course I said yes."
After meeting Joe and listening to his story unfold, the author recalls, "As I talked with Joe, I noted that tears came readily to his eyes at certain junctures. Men of his generation don't generally cry easily, so I knew immediately that there was something extraordinary going on…I began to see that all the elements of a great tale were there—intense competition between individuals, bitter rivalries between schools, a boy left alone in the world, a fiercely demanding coach, a wise mentor, a love interest, even an evil step-mother. But I think what really clinched it for me was the simple fact that the climax to the story played out on an enormously dramatic stage—the 1936 Olympics in Berlin—and it played out under the gaze of Hitler himself. Really, what more could a storyteller ask for?"
After being mesmerized by Joe's story and that of the unlikely crew, Brown asked Rantz if he could tell the tale. Rantz agreed, but admonished, "But not just about me. It has to be about the boat." By "the boat" he meant the whole crew and the strands of affection that bound them together. Brown shows tremendous respect for the memory of all the individuals, arguably one of the greatest crew teams of all time, and their underlying determination to be a part of the #1 boat.
Gordon Adam, Chuck Day, Don Hume, George "Shorty" Hunt, Jim "Stub" McMillin, Bob Moch, Roger Morris, Joe Rantz, John White, Jr.—these were the boys in the boat, the University of Washington's 1936 crew, a team that transformed the sport and grabbed the attention of millions of Americans in the depths of the Depression. The sons of loggers, shipyard workers, and farmers, the boys defeated elite rivals first from eastern and British universities and finally the German crew rowing for Adolf Hitler in the Olympic Games in Berlin.
"Almost any ordinary American could identify with them," notes Brown, "particularly in economic terms. Like everyone else, they were struggling simply to feed and clothe themselves. So in that sense they served as a model—something you could identify with if you were struggling yourself. This perception grew even more acute when they began to compete against the often very wealthy boys at Ivy League schools in the East. And then even more when they began to compete against the aristocratic British boys from Oxford and Cambridge. And most of all, of course, when they competed against the hand-picked Nazi oarsman in Berlin. The stark contrast was brought face-to-face by the nine American kids dressed in ragged old sweatshirts and mismatched shorts racing against regimented blond oarsman in crisp white uniforms with swastikas on their chests."
But throughout, Joe Rantz remains the emotional heart of the story, a teenager without family or prospects, abandoned as a child by indifferent parents—who rows not for glory, but to regain his shattered self-regard and to find a place he can call home. "I honestly think that crew saved Joe's life, or at least redeemed it and made it worth living," observes Brown. "If he had never been on crew I don't think there's any doubt but that he would have remained somewhat damaged goods—something of a loner and somewhat dysfunctional—all his life. Then he joined the crew, which was assembled by an enigmatic coach and mentored by a visionary, eccentric boat builder. And it is their trust in one another that makes them a victorious team. They remind the country of what can be done when everyone, quite literally, pulls together—a perfect melding of trust, determination, and optimism."
"I really can't rave enough about this book," exclaims author David Laskin. "Daniel James Brown has not only captured the hearts and souls of the University of Washington rowers who raced in the 1936 Olympics, he has conjured up an era of history. Brown's evocation of Seattle in the Depression years is dazzling, his limning of character, especially the hardscrabble hero Joe Rantz, is novelistic, his narration of the boat races and the sinister-exalted atmosphere of Berlin in 1936 is cinematic. I read the last fifty pages with white knuckles, and the last twenty-five with tears in my eyes."
The book, published by Viking, was released this month on June 4. The Weinstein Company has already begun to develop a script for their upcoming film adaptation.
"I'm beyond excited at the prospect of a feature film based on The Boys in the Boat," says author Daniel James Brown. "A scriptwriter came up from Hollywood recently and spent the day with me. We visited the old shell house at UW, met some of the rowers' family members, and hung out with the Washington crew a bit. He went back to California full of great ideas… Of course with movies you never know. There are still hurdles to clear before the Weinstein Company will be ready to start casting and filming, but so far the signs are very good. If it happens, I think the greatest thing will be that this terrific story about some very remarkable young men who long ago made it big on the world stage will once again be played out in front of the whole world."
Speaking engagements:
The Boys in the Boat book launch celebration takes place at 6:30pm June 4 at University Book Store, 4326 University Way NE in Seattle. Light refreshments will be served and a choir will perform beginning at 6pm just before Daniel James Brown reads from his book, followed by discussion and book signing. No tickets are required for the event.
Other area events on this national book tour include:
• June 15 at 2pm, Elliott Bay Book Company, 1521 10th Ave, Seattle
• June 22 from 1-3pm, Costco, 1801, 10th Ave NW, Issaquah
• June 25 at 7pm, Third Place Books,17171 Bothell Way NE, Lake Forest Park
• June 26 at 7pm, Village Books, 1200 Eleventh St, Bellingham
About Daniel James Brown – on his website Brown writes: "I live near Seattle with my wife, two daughters and an assortment of cats, dogs, chickens, and honeybees. When I am not writing, I am likely to be birding, gardening, fly fishing, reading American history, or chasing bears away from the bee hives."