Geoffrey Castle Performs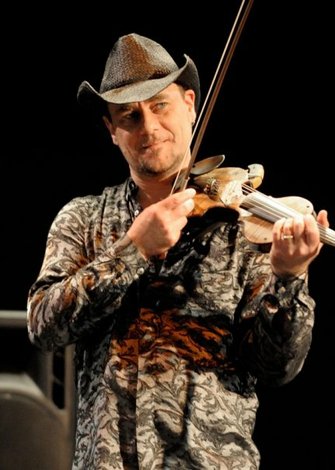 The lights dim at an Eastside Irish pub and a sound fills the air, a sound like a fiddle, but as it resonates through the room, it's unlike anything ever heard before. The ancient Celtic melody builds until it reaches a crescendo of rock and roll proportions. Shouts of praise ring out as the crowd witnesses something astounding. The instrument is a six-string electric violin, and the musician is Geoffrey Castle, who has been gaining popularity around the Puget Sound Area since relocating to Kirkland in 1995.

Geoffrey's beginnings as a street musician in New York City and Paris during his college years allowed him to cultivate his unique style. He experimented with several different sounds but the one he resonated with the most was an ancient Celtic sound which he eventually blended with rock, jazz and pop. Hethen rose to fame playing in the Tony award winning Broadway production of M. Butterfly.

He is a band leader and solo artist with several critically acclaimed releases on his own Twisted Fiddle Music label, and has shared the stage with an illustrious group of musicians including Blues Traveler, original and current members of Heart, Buddy Miles, and Alan White of Yes. Geoffrey was also invited to be a member of the White Sox All Star Band, playing alongside Spike Edney of Queen, Jamie Moses of Mike and The Mechanics, Tom Bowes of Tower of Power, Eric Bazilian of the Hooters, and many more.
Geoffrey has long been an advocate of community outreach programs and he performs around the country to kids of all ages hoping to inspire the next generation. He continues to support fundraisers like "Keep the Music Alive," and Music Aid Northwest to allow music programs to remain in schools.
This past holiday season, Geoffrey Castle's 5th Annual Celtic Christmas Celebration went on the road around the state and received rave reviews. His high energy performances are enhanced by his charismatic storytelling, and his multi-talented band members. The tradition carries forth with his 8th Annual St. Patrick's Eve Concert at The Kirkland Performance Center on March 16th, an event the Eastside looks forward to year after year. The Triple Door in Seattle will again host Geoffrey on June 15th for an original and unique solo show. This musical experience always leaves the audience wanting more.
Throughout the year he can be found at several festivals and venues, including Kirkland's Summerfest and The Wilde Rover Irish Pub, The Sequim Lavender Festival, various Woodinville Tasting Rooms, and Bake's Place in Bellevue. Geoffrey Castle's pioneering talent is an incredible addition to the Seattle music scene and he is a musician people will be talking about for years to come.