The fit and feisty senior's guide to boxing-related exercises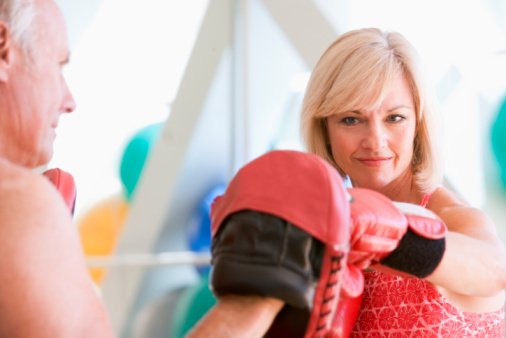 It's not likely most of us climb under the ropes and into the ring to box with an opponent just to get our daily dose of healthy activity. Yet there are some excellent boxing-related exercises you can do without an opponent that will get your heart pumping and your muscles growing.
Shadow boxing allows you to do a lot of repetitions without the impact of hitting a punching bag. Play a song with a strong beat while you work out. Maybe something from the 60's like the Mysterians "96 Tears" or a more contemporary song like "Animal" by Neon Trees. (You'll find these and many others on YouTube). Every three or four beats, throw a series punches. Mix them up with combinations of jabs, crosses, uppercuts and hooks.
A speed bag works your arms, shoulders and back and builds endurance. Be sure to mount the speed bag about head-high so you'll have to keep your arms up during the workout. Hit the bag two or three times with one hand, then switch. Develop a rhythm and keep up the pace for about five minutes. For the last 30 seconds of the workout, alternate hands with each punch as fast as you can to get those good cardio effects. With a heavy punching bag, typically around 100 pounds, your goal is to hit the bag as hard as you can for several minutes. Really lean into it and hit it.
With a speed bag or a heavy bag, be sure to use hand wraps and 12- or 16-ounce gloves. You can buy speed bags from around $25 and heavy bags for about $70. These are all great ways to put leisure fitness activities into your daily routine.
Content Provided by Spot55.com