Perfect DIY At-Home Facial in 5 Easy steps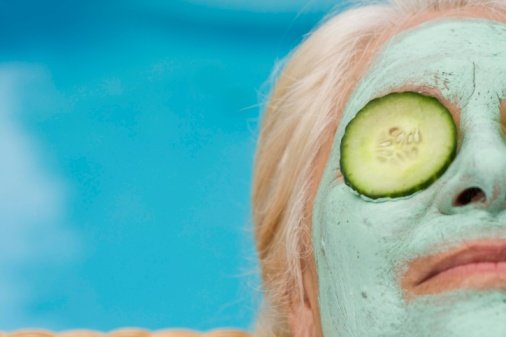 Do you daydream about sitting in a spa every week having your face slapped, scrubbed and slathered with beauty products? Well, snap out of it! Lavishing it up in a spa isn't cheap. Good to know a DIY at-home facial can give you the same flawless results for a fraction of the price.
Step 1: Clean it Up
Wash your face and neck with a gentle cleanser to get rid of makeup, dirt and oil. You don't need to spend your last dime on a cleanser for it to work. The trick is to get one that's right for your skin type. Consider a soap-free cleanser that will remove grime without drying your skin out.
Step 2: Exfoliate Away
Dampen your face and apply an exfoliator with your fingertips. Gently rub the product in a circular motion. Concentrate on the forehead and nose. These areas are hotspots for dead skin build-up.
Step 3: Steam Clean
An easy way to steam your face is to dip a wash cloth in warm water, put it on your face and let it sit for a minute. To reap the full benefit, repeat the process at least three times.
If you want to get really fancy, you can buy a facial steamer from the local drug store.
Step 4: Mask it
Apply a mask to your face and lie back for 20 minutes. Place a couple of cucumbers on your eyes and lie back until the mask is ready to come off. Get a mask that's right for your skin type. Clay-based masks work well on oily skin, and hydrating masks work better for dry skin.
Step 5: Slather on Moisturizer
Apply your favorite moisturizer to your face and neck. If you're not sure about the best moisturizer for your skin, use extra virgin coconut oil. A little of this stuff goes a long way and it works well on most skin types.
Who needs the spa? With these five tips, you can give yourself a royal DIY facial at home. You won't have to turn your piggy bank upside down, and the end results will be just as fabulous as having it done by a pro.