WWII veteran receives recognition with pinning ceremony at end of life
Benefits from services offered by Providence Hospice of Seattle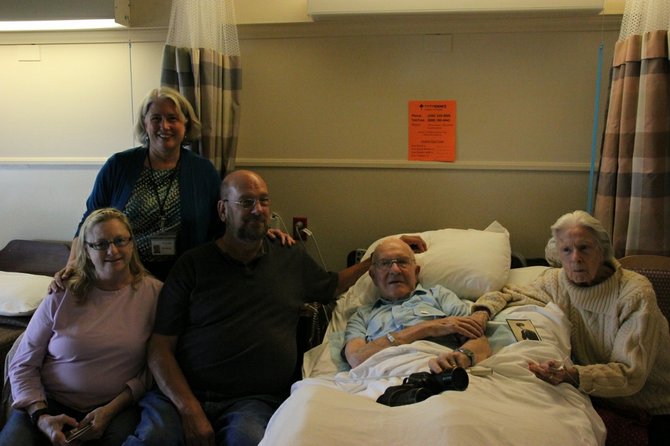 Alfred Stiller, now 90, recalls flying back from the Philippines during World War II when something suddenly went wrong with the plane. "The plane went down," he said. "We had to get in the water and get to an island. It was Japanese occupied."
Stiller, a U.S. Army Air Forces flight engineer, survived "without a scratch" and lives to tell the story today. While other memories are fading with age and disease, Stiller can still vividly recall his years serving in the military from 1942 to 1946.
It's not unusual for veterans to have such memories as they reach the end of their lives. Their time in the service often involved life and death situations for themselves and their buddies - emotionally charged action that sometimes is buried deep for decades after returning to civilian life. Veterans of each war are treated differently and respond to their time in the military in various ways, depending on what generation they're part of. While the government now is improving the way it helps veterans address the mental impacts of war, it hasn't always been that way. Many veterans - especially the older ones - have lived their lives without talking about or processing their experiences.
That's why The National Hospice and Palliative Care Organization and Providence Hospice of Seattle are using the national "We Honor Veterans" campaign, a comprehensive program funded by the U.S. Department of Veterans Affairs (VA) aimed at treating veterans at the end of their lives.
One way is through a simple Veteran Pinning Ceremony, like the one Stiller experienced recently in his bed at BayView Retirement Community's nursing home in Queen Anne in time for both Veteran's Day and National Hospice/Palliative Care Month in November. On hospice care since May, Stiller and his family welcomed the recognition as he faces the end of his life.
"We're here to say thank you to Al for his service to our country," said Providence Hospice of Seattle chaplain Christina Lee, who conducted the ceremony with Stiller's wife Mary, son Tom, daughter-in-law Sue and staff looking on. "We want to sincerely let you know how much we appreciate your service to our country. We give thanks for your courage and bravery...We are asking God to watch over Al and all veterans in the U.S., that you heal their wounds and comfort their hearts and give them peace."
Stiller smiled proudly as his son placed a small lapel pin on his light blue shirt. The former West Seattle resident talked about enlisting at age 19 and serving in the South Pacific. He peered curiously at a photo of his handsome self in uniform that Sue had dug up from the family photo albums. He ran his fingers over the heavy military issue binoculars that he had saved from that downed plane and kept all these years.
Hospice employees note that every pinning ceremony is different, as each patient is different. "There are people who don't smile, don't talk. When we present these to them they'll just be grinning ear to ear," said Sandra Hawkinson, RN and nurse case manager for Providence Hospice and Home Care of Snohomish County. "They're so proud; it's so meaningful. Sometimes they cry. We have such a strong response from our patients when we do these pinning ceremonies. It's wonderful."