The aging guy's guide to achieving and maintaining an erection without medication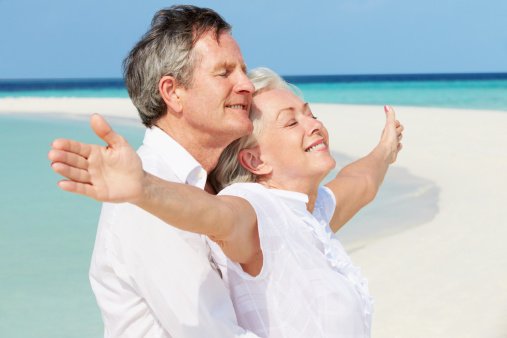 Hey, guys. Make this one real, ok? Think about ways to rekindle your sexual desire without making use of bands and pumps, masturbation disguised as penis exercises or a lifetime commitment to a junk-load of testosterone side effects.
The truth: In spite of thinning hair, deteriorated eyesight and the passing of a few treasured molars, aging males still retain a desire to engage in hormone-driven sexual activity. Problem is, the hormones are in hiding and erections in old age can turn out to be more fantasy than reality.
Shifting It From Fantasy To Reality
According to MedlinePlus, aging males can expect a gradual decline in sperm production, the integrity of testicular tissue and erectile function. The eyes still see. The mind still craves. But the body stops cooperating. Along with a drop in hormone production, men also experience a reduction in strength and energy. Then it all gets a double kick from the emotional complications that follow a few failed sexual encounters.
By addressing complications in any of the following areas, you can rekindle your sexual desire without need of medical supplements:
Anxiety -- Try Yoga
Alcohol -- Eliminate excessive drinking
Depression -- Speak words of confidence in all matters
Diet -- Eat fish, fiber foods and avoid junk food
Eliminate Medical Side-Effects -- Discuss the problem with your physician
Exercise -- Men need aggressive routines that push muscles to perform on a higher level
Kegel Exercises -- Involves the tightening and releasing the pelvic muscle that controls urination
Maintain General Health -- See your doctor on a regular schedule
Marriage Tensions -- Treat your wife right even when she is treating you wrong
Social Issues -- Avoid discussing things over which you have no control
Smoking -- Just stop
Stay Sexually Active -- Even if you can only satisfy the lady with your hands.
Men, even those comfortable within marriage, nearly always perceive themselves as the object of every woman's focus. Whenever the female public is within viewing distance, guys of all ages tend to walk with a strut, a sucked up belly and the cockiness of a game rooster. Why not pass up the fantasies and get real about keeping your woman happy.
Content Provided by Spot55.com