Local Teen Composers Work with Seattle Symphony Musicians
April 30 Concert Features Music by the Next Generation of Composers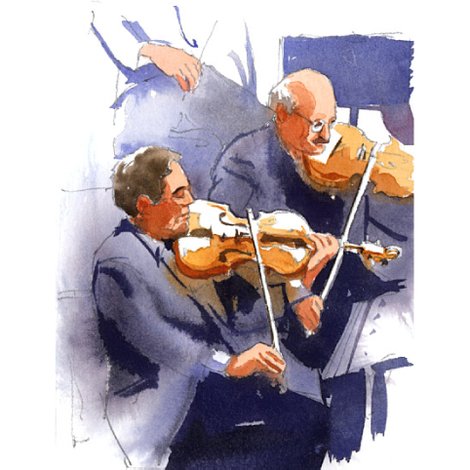 The inspiring talent of tomorrow's composers will be on display in Benaroya Hall's Illsley Ball Nordstrom Recital Hall on Tuesday, April 30, at 7:30 p.m. Ten Seattle-area teenage composers will have their music premiered by Seattle Symphony musicians and friends as the culmination of the 2013 Merriman Family Young Composers Workshop. For 12 weeks, these gifted students developed their new works under the guidance of Workshop Director and composer Samuel Jones.
Jones will interview each young composer prior to the performance of his or her work. The composers will briefly discuss the inspiration behind their pieces, providing insight into the thoughts and musical ideas of classical music's next generation of stars.
The participants in this year's workshop are Pierre Suignard of Bellevue; Clara McMichael of Des Moines; Wilhelmina Esary of Duvall; Cole Holland of Edmonds; Craig Michael Walstead of Gig Harbor; Christina Sun of Mercer Island; Benjamin Davis, Stefanos Jones, Will Langlie-Miletich, Benjamin Salman and Akshay Srivatsan of Seattle; and Daniel Lazar of Tacoma. Biographies for each composer are listed below.
This concert is free and open to the public; no tickets are required. For more information, visit www.seattlesymphony.org, or call the Seattle Symphony Ticket Office at (206) 215-4747.Ticket Office hours are Monday through Friday, 10 a.m.–6 p.m., and Saturday, 1–6 p.m.
ABOUT THE WORKSHOP
The Merriman Family Young Composers Workshop gives students the opportunity to work on all aspects of composing, including writing themes, learning orchestration and preparing a final score with parts, all under the tutelage of Dr. Samuel Jones. The workshop began in 1992, under the direction of Conductor Laureate Gerard Schwarz and former Composer in Residence Bright Sheng. Due to the generous support of the Merriman Family Foundation, young composers continue to have the opportunity to hone their skills and develop their own creative voices.
Current and former participants in the Young Composers Workshop have received national recognition, including the following awards and honors: the ASCAP (American Society of Composers, Authors and Publishers)/Morton Gould Young Composers Award, the BMI (Broadcast Music, Inc.) Student Composer Award, the Delius Prize for high school composers, the Music Teachers National Association Composition Award, the PTA Reflections Award, and a From the Top Public Radio International broadcast. Alumni of the program have gone on to study music and composition at the nation's top universities, conservatories and summer music programs.
Participants are selected for the workshop based on submitted applications and music scores. The Merriman Family Young Composers Workshop is part of the Seattle Symphony's Family, School & Community Programs.
MEET THE COMPOSERS
Benjamin Davis is delighted to be attending the Young Composers Workshop for his seventh year, having started at age 10. Benjamin is currently a senior at Lakeside School. He has been studying composition with Sharon Van Valin since the age of 6; he also studies piano, violin, viola and electric guitar. Benjamin has been the winner of many local and regional composition contests, including those of the Seattle Music Teachers Association, Washington State Music Teachers Association, Washington State Federation of Music Clubs, and the American College of Musicians. He was a national winner of the National Federation of Music Clubs Composition Contest in both 2009 and 2010, and was also a national winner of the Music Teachers National Association Composition Contest in both 2009 and 2011. Benjamin's other interests include chess, skiing and filmmaking. Next year, he will be attending Brown University, where he plans to continue studying music composition.