Gypsy plays at Seattle Musical Theatre April 26 through May 19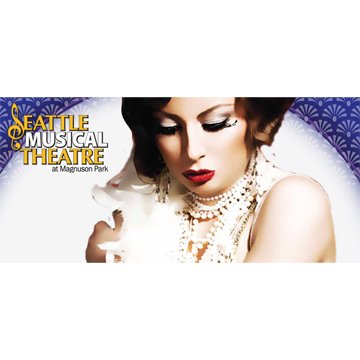 Based on the memoirs of Seattle's own Gypsy Rose Lee, this great American musical follows Mama Rose's dauntless efforts to make her children vaudeville stars, and the damaging fallout that those efforts leave behind on all her relationships.
Gypsy boasts multiple Tony awards and revivals throughout its history. Let us entertain you with this classic, whether it is your first time or your 20th.
April 26th - May 19th
Fridays & Saturdays at 7:30pm
Sundays at 2:00pm
Thursday, May 16th at 7:30pm
$40 adults, $35 seniors & students. Tickets can be purchased at www.SeattleMusicalTheatre.org
or by calling 206-363-2809.
SPECIAL EVENT!
In celebration of Gypsy Rose Lee and her burlesque roots in Seattle, we are proud to welcome The Atomic Bombshells!
One night only on the SMT stage, let these burlesque stars tease and entertain you!
$20 (18+ only!)
ABOUT SEATTLE MUSICAL THEATRE
In 1978, a group of Seattle opera enthusiasts decided it was time to produce some lighter fare than what other local companies were offering. The Civic Light Opera Association was re-born, in a new home at Lake City's Jane Addams School, from the original CLO which had been performing at the Northgate area Heritage Theatre. Although the productions were sound, the audiences who attended the operettas were really in the mood for good old American musical theatre – and by 1980, there were plenty of wonderful offerings to choose from. The third season of CLO included Man of La Mancha, Carousel, and Kismet and began our long tradition of presenting the very best of the genre.
From that time forward, the name Civic Light Opera was considered a misnomer by some, since the company no longer performed operettas. Following many years of discussions, in 2006 the Board of Directors changed the name to Seattle Musical Theatre.
Civic Light Opera performed at the Jane Addams School Theatre 25 seasons. In 2002, the company moved to the Shoreline Community Center, but when Seattle's Magnuson Park theatre became available in 2004, Civic Light Opera chose to relocate back to the NE Seattle community to be closer to our many subscribers and supporters.
The company recently signed a long-term lease with the City of Seattle and the Seattle Parks Department. Facility renovations to bring a state of the art venue to Magnuson Park are well into the planning stages.
Today, Seattle Musical Theatre is the only local theatre that produces strictly musicals. The company has gone beyond the standard repertoire to present Northwest premieres including "Into the Woods," "Evita," "Ragtime" and the critically-acclaimed "Jane Eyre: The Musical." The company also seeks to produce shows that are not often seen by musical theatre audiences, most recently "110 in the Shade," the beautiful musical version of the classic film, "The Rainmaker."