Close Knit Volunteers
Sam Fenner | Apr 4, 2013, 6 a.m.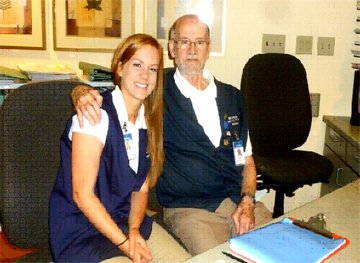 Volunteering at Highline Medical Center in Burien, Wash has been a most rewarding 15 years in my life. The hours I have volunteered amount to nothing compared to the values that I have received. Just a smile from an elderly patient or a youngster often makes my day. Observing a team of nurses working as a unit also brings contentment and pride to us volunteers.
It amazes me as I look at all the different reasons given for becoming a volunteer. It often begins with one family member and extends to other relatives. I am a part of this group. For the past 15 years, my family has witnessed the joy that I receive from volunteering. I won't take credit for Katie Cunningham and Sam Fenner it, but my oldest granddaughter, Katie briefly became a volunteer in the Highline Medical Center Cancer Clinic. Like me, she loved her duties, but she and her husband moved farther out in the country, and she gave up volunteering. I hope she returns soon.
Several of our volunteers became familiar with the medical center as patients or had family members that were patients. The treatment they received from the physicians and staff encouraged them to become volunteers.
Several of our volunteers worked together at places like the Highline School District and other organizatoins. I am sure that they spoke highly of their volunteer duties and activities, and this encouraged their friends to become volunteers. It is heart- warming to see retired nurses coming back as volunteers.
Just as our volunteers are a close-knit group that work as a team, we receive directions and moral support from a fantastic volunteer staff. Our staff consists of a director, two volunteer coordinators, and two hard working ladies that are connected with the gift shop. That staff works together in unison, and are always available to answer our questions and to offer us their help. The examples they set are just another benefit that we receive.
Each volunteer is assigned to a specific department, and we always receive excellent support from the department director and on down through the entire department staff. We are treated with the utmost respect by the entire staff. We are rewarded also by the thanks that we receive from patients and/or their families.
The diversity of the volunteers is endless. We worked in all aspects of employment, and bring our talent, knowledge and culture to our volunteer assignments at Highline Medical Center. Age is no barrier to becoming a volunteer. We see teenagers, some that hope to enter the medical profession. Most of our volunteers are retired, and see volunteering as an arm to extending their service to others. We never enter the volunteer field with a limit as to how long we might volunteer. Most of this close-knit group will continue to be volunteers, and to help others until our health dictates to us that it is time to stop. In the meantime, we will enjoy being a part of this close-knit group. Volunteering is so rewarding and satisfying, especially with a group of wonderful friends.