5 cheap vacation spots off the beaten track
September 21, 2012 at 8:31 a.m.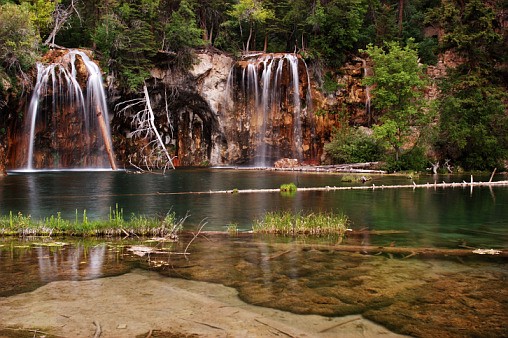 ---
With the heat wave affecting most of the U.S. this summer, it's time to get away for vacation! Preferably an affordable out of the way place where you can relax and recoup.
Let's take a look at five standout places to go for a cheap vacation starting in California and working our way toward the East coast.
Crystal Cove Beach Cottages and Crystal Cove State Park, California
Right on the ocean, these cottages represent the earliest attempt to turn California's coastline into a vacation paradise. They were all built in the 1920's and 1930's. They're on the national historic register and have been restored for public use. Cottage #13 was used in the making of the movie "Beaches" with Bette Middler. They're chock full of history, a bit funky and lots of fun. Here's a short video and here is a link to their website. Rates run from just $69 per night up to around $200 per night for the larger cabins which sleep up to eight people.
Glenwood Springs, Colorado
It's home to the Four Mile Creek Bed and Breakfast in Roaring Forks Valley, and just a short ride to area attractions. You can rest your body and soul at the awesome Glenwood Hot Springs Pool. Choose between the therapeutic pool or the wild water tube rides. If you're up for exploring, visit the Fairy Caves, Hanging Lake or any of dozens of area attractions.
St. Louis, Missouri
It's chock full of free attractions. Start with the zoo -- it's free except for a parking charge. Move on to the arch for a free tour or pay a few dollars and ride 630 feet to the top. It'll give you a superb view of the Gateway City. Then, visit the Sophia M. Sachs Butterfly House, tour the Anheuser-Busch brewery or take in a St. Louis Cardinals ballgame at the new Busch Stadium. Scores of low cost hotels and motels are available throughout the city.
Wilmington, North Carolina
Hollywood producers make so many movies and TV shows here they've started calling it "Wilmywood." Check out the Battleship North Carolina, take a stroll along the gorgeous Cape Fear River Walk, enjoy a great meal at the Front Street Brewery or hit one of the many beaches. There's so much to see and do in the Wilmington area.
Bar Harbor, Maine
Just across the Bay of Fundy from Nova Scotia, Canada, Bar Harbor is a fantastic summer getaway. While most of us spend our days avoiding traffic and suffering with 90+ degree days, it's a comfortable 70 in Bar Harbor. Choose between whale watching, music festivals, nightlife, shopping or 18 holes at the Kebo Valley Golf Club. Bar Harbor is a getaway you'll enjoy and remember for years to come.
Content Provided by Spot55.com
View and download this publication.
---
Inspire Positive Aging Award Winners!
The recipients of Sound Generations' 2022 Inspire Positive Aging Awards were celebrated at a June 16 luncheon.
---
A Birthday Gift Safety Manuel
I'm sure most men would agree that buying a birthday gift for your wife is fraught with danger
---
Filipino Village and Senior Housing Community Opens
Seattle's Filipino Community Village and affordable senior housing project opened in June
---
Where in Washington?
And the winner is...
---
Mt Si at Midnight
My best friend, Miggs, loved to climb and coaxed me up anything that was a hill if she could catch me in an unguarded moment. I hated a stiff climb, as even in those long-ago days I was plagued by shortness of breath. She could talk me into the effort by reminding me of how wonderful the view would be from the top. I have always been a push-over for a view.
---