Foodie alert: Check out these top 5 cheap NYC restaurants
September 10, 2012 at 9:14 a.m.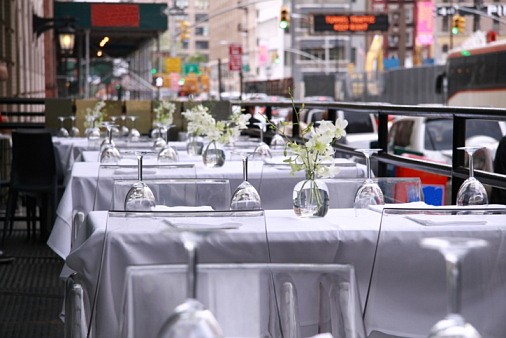 ---
If you find yourself in the Big Apple with a big appetite, but not such a big wallet, don't worry because you are smack dab in the middle of one of the best places to find good (and cheap) eats in the entire world.
When we think of New York City tourism opportunities, you have to admit that eating some of the food the city is famous for does come to mind. What you may not realize is that you can get some of the most delicious cheap food in New York City without breaking the bank.
Read best places for pizza in the Big Apple
Here are some ideas for some great places to get some good, cheap food in New York City that will fill your belly without emptying your wallet. NY Magazine and Urban Spoon suggest these budget friendly eats.
5 great inexpensive NYC restaurants
Souvlaki GR -- Some of the best Greek food you will ever eat is at this NYC Mediterranean style eatery. Choose the delicious pork and chicken souvlaki for a true treat.
Mamoun's Falafel -- Located in the heart of Greenwich Village and featured in the book "1000 Places to See Before You Die", Mamoun's is known for having the best Falafel in NYC.
Smashburger - This burger joint is becoming popular all over the US for their smashed burgers and the NYC location is no exception. Try the Brooklyn Burger with Swiss and pastrami on a pretzel bun.
Pommes Frites -- This specialty shop serves authentic Belgium fries with exotic toppings such as Wasabi Mayo, Rosemary Garlic Mayo, Smoked Eggplant Mayo, and more.
Corner Bistro -- Known as the last bohemian bar in Greenwich Village, Corner Bistro serves up great burgers and appetizers that all the locals love.
Bon appétit and many good eats during your visit to the Big Apple!
Content Provided by Spot55.com
View and download this publication.
---
Inspire Positive Aging Award Winners!
The recipients of Sound Generations' 2022 Inspire Positive Aging Awards were celebrated at a June 16 luncheon.
---
A Birthday Gift Safety Manuel
I'm sure most men would agree that buying a birthday gift for your wife is fraught with danger
---
Filipino Village and Senior Housing Community Opens
Seattle's Filipino Community Village and affordable senior housing project opened in June
---
Where in Washington?
And the winner is...
---
Mt Si at Midnight
My best friend, Miggs, loved to climb and coaxed me up anything that was a hill if she could catch me in an unguarded moment. I hated a stiff climb, as even in those long-ago days I was plagued by shortness of breath. She could talk me into the effort by reminding me of how wonderful the view would be from the top. I have always been a push-over for a view.
---