Daily Dose of Whole Grains Wards off Cancer, Heart Disease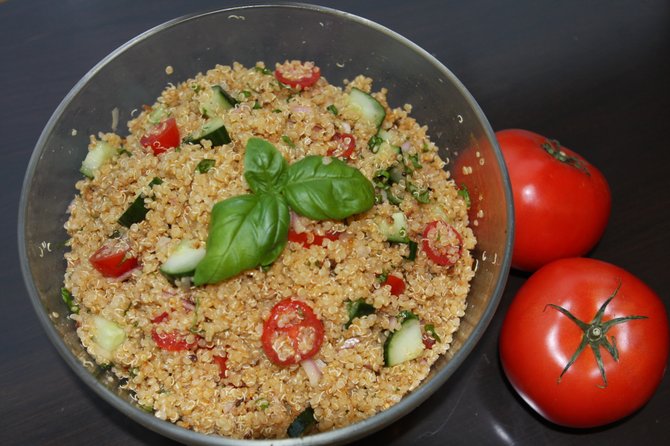 When buying prepackaged foods, look for labels that state "100 percent whole grain." Beware of items claiming to be "made with whole grains" as they usually contain mostly processed grain. Another tricky marketing tool is labeling products such as dinner rolls or crackers as "wheat." They may be darker, but unless the label says "whole wheat" they are made with refined flour.
Whole grains are economical, nutritious and easy to incorporate into meals and recipes.With all the delicious whole grain choices we have, it's easier than ever to make refined grains a thing of the past.
Non-profit, accredited Bastyr University (Bastyr.edu) offers multiple degrees in the natural health sciences, and clinical training at Bastyr Center for Natural Health (BastyrCenter.org), the region's largest natural medicine clinic.
Quinoa Tabbouleh
Ingredients
• 1 cup quinoa, rinsed
• 2 cups water
• 1/3 cup extra virgin olive oil
• 1/3 cup fresh lemon juice
• 1 cup chopped red onion
• 1 cup chopped fresh parsley
• 1/4 cup chopped fresh mint
• 1-1/2 cups grape tomatoes, halved
• 1 large cucumber, seeded and chopped
• 3 cloves garlic, minced
• Salt and pepper
Directions
1. Bring quinoa and water to a boil in medium saucepan over high heat. Reduce heat to medium-low and simmer until tender, about 10 minutes. Cool.
2. Add oil, lemon juice, onion, parsley, mint, tomatoes and cucumber; toss to combine. Season with salt and pepper. Cover and chill.
Adapted by Catherine Lindberg from allrecipes.com
This article appeared in the December 2012 issue of Northwest Prime Time, the Puget Sound region's monthly publication celebrating life after 50.