55 + Washington Titans Complete 3-Peat, Remain Undefeated and Defend Baseball World Series Titles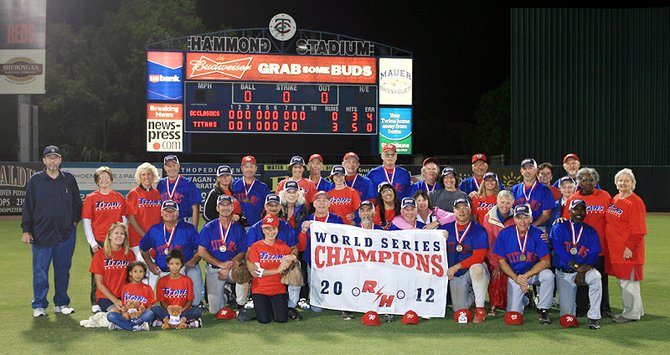 For the 3rd straight year, the Washington Titan's 55+ baseball team has won the top-level AAAA Legends division of the Roy Hobbs World Series. 43 teams from various parts of the continent were classified into 5 different competitive levels. Bart Waldman was the winning manager, assisted by Marlin Appelwick. The 3-Peat included 3 wins over the DC Classics (from the other Washington) 10-0 in pool play, 10-7 in the quarterfinals, and 3-0 in the final game.
The Titans 60+ team which won the top level AAAA Classics division in 2010 and again in 2011, overcame adversity (due to illness or injury to 3 of its starting infielders who were also top hitters) and battled through the single elimination play-offs to win the silver medals in the 2012 finals. Team manager was Mic Stump whose assistant Pat Weber and infielder Gerry Slick were also unable to attend. Five members played on both teams: Bob Jarrett, Randy May, John Moelhman, Dave Reynolds and Bart Waldman.
Other members of the Titans 55+ team are Charles Jeffers, Mike Kutchta, Wes Lewis, Steve Myers, Marc Mullins, Rick Nasci, Mark Patterson, Glenn Powers, Steve Rapkoch, Rich Seiler, Doug Springford and James "Amigo" Wright.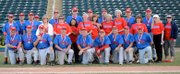 Additional players on the Titan's 60+ team are Sam Ceci, Ken Ellerbeck, Tom Krause, Dan "Doc" MacDougall, Dave Mathews, Jim Moore, John Olerud, Ron Staples, Dave Vincent, Bill Williams and Dan Wombacher. Players on the 60+ roster but ill or injured and unable to participate were Bill Ralston and Mike Slattery. They were joined on the DL by Sam Ceci who suffered a series-ending injury during the first playoff game of the double elimination tournament.
For the past 24 years, the highly prestigious Roy Hobbs Tournament has been held annually from mid October to mid November in the Spring Training facilities of the Minnesota Twins and Boston Red Sox as well as other Lee County Parks sports venues (all 90 foot bases, 66.5 foot mounds) in Ft. Myers, Florida. Thousands of men and women aged 25 and over from around the world play in the 4 weeks of hardball tournaments. From May to September most of the Titan players participate in the Puget Sound Senior Baseball League for men and women ages 21 and over. For information on adult and senior baseball, visit www.pssbl.com and www.royhobbs.com.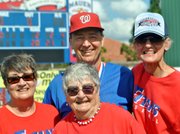 WHY WASHINGTON TITANS ARE WINNERS
By Helena Reynolds
Wife of Dave Reynolds, Closing Pitcher of the 2012 Roy Hobbs AAAA Legends World Series Championship Game
I'm only a Washington Titan's wife
who may not know much 'bout the game…
…but I have ideas why Washington Titans
have earned their Roy Hobbs claim to fame
My husband's a pitcher and plays first and third
Now that he's referred to as "Gramps"
Our Washington Titans teams, Legends and Classics
are both Roy Hobbs World Series Champs
The Fifty-five Legends and Sixty-plus Classics
have overcome adversity…
The Legends won 7 of the past 8 years
and the Classics are now two for three
So what does this Washington Titan's wife do?
Editor's Picks