Avoid tourist traffic and save money at these 5 romantic vacation spots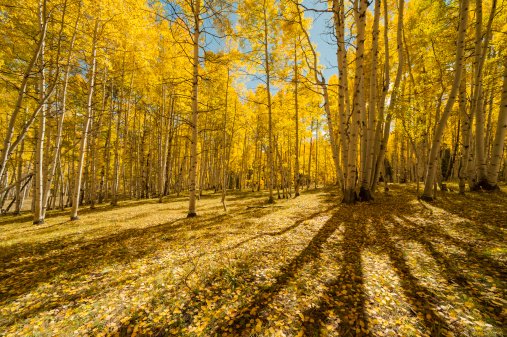 With vibrant colors and cooler nights, keeping the spark of romance alive is easy, especially when you take time to seek places to go for a cheap vacation. Here are 5 great fall vacation spots known for fewer tourists and more time alone, the perfect recipe for an autumn romantic interlude. Avoiding traffic and having plenty of peaceful time alone/together is your main objective, but you also can enjoy amazing natural beauty in the following popular locations.
Magnificent sand beaches become the backdrop for romantic picnics without the summertime crowds anywhere along the Great Lakes shores of Michigan. Visit colorful Mackinaw Island, Tahquamenon Falls in the Upper Peninsula or stroll along now quiet spots near Traverse City, Manistee, Grand Haven or South Haven in the Lower Peninsula. Nearby wineries are open all year and can help you set your mood for romance.
Visit colorful Colorado and enjoy the extreme beauty of yellow Aspen trees framing the purple mountain majesties near Denver in the fall. Drive up Pikes Peak or take the cog railway without the crush of summer visitors and view the same vistas that inspired the words to "America the Beautiful."
Plan an island jaunt over to Hawaii. It's colorful all year, with pleasant temperatures in every season. Fall is a great time for avoiding most tourist traffic and you will save money in any resort area's slow season.
Visit Las Vegas before heavy holiday and winter crowds spill all over the strip, seeking fame, fortune and warm weather. This is a premier choice of places to go for a cheap vacation, as many casinos offer unbeatable combination deals for play-and-stay getaways to pump up their visitor traffic this time of year.
New England abounds with color in the fall; you can choose any treed state loaded with hardwoods and corresponding reds, oranges and yellows. Cruise the back roads and meander along winding trails while you enjoy fall treats of maple candy, fresh syrup and pumpkin pancakes.
Avoiding traffic is one secret for sparking romance; you don't have to worry about crowds, and it's more relaxing than in the busy seasons of summer and winter skiing. The air is crisp, clear and clean, plus you can save money by travelling in the off season.
To get the best deals, check with local guidebooks first to determine the official beginning and ending of "in seasons" and higher rates. Then, plan to go a little ahead or after those dates. You may be surprised to find you are all but alone in a resort hotel right on the beach, or that you have your choice of slot machines to play all night long.
In the off-season at top resort areas, you can even arrange for deluxe accommodations at tourist pricing. Saving money and having fun both encourage romance, and who knows? If the spirit moves you and you are staying in Las Vegas, you may even decide to get married or renew your vows, guided by an Elvis impersonator! Keep that romantic spark alive, avoid traffic and crowds, enjoy fall color tours, more alone time and save money with a low-cost vacation trip. Start planning today and dress sexy!
Content Provided by Spot55.com