Top 10 things to see and do in New York City
May 30, 2012 at 8:46 a.m.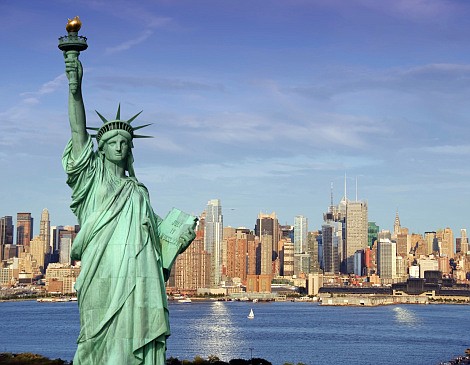 ---
If you're thinking about taking a vacation this summer and you haven't yet taken a bite off The Big Apple, maybe our list of top 10 not-to-be-missed New York City attractions will help settle your plans.
The Empire State Building -- Soon to be surpassed (again) as the tallest building in the city, the Empire State Building is one of those New York City attractions that you've got to experience to really appreciate. It's also "tourist central" -- but just because you'll be rubbing elbows with vacationers from all over the globe doesn't make this an undesirable sight to see.
Grand Central Terminal -- One of the staples of New York City tourism, you might know this place by its informal name of "Grand Central Station." Whatever you call it, it's a New York City attraction not to miss. Far from simply being the biggest train station in the world, Grand Central isn't just for train enthusiasts. It's also got restaurants, delis, bakeries, a food market, and more retail stores than you'll probably get a chance to patronize.
The Statue of Liberty -- One of the icons of New York City tourism stands as a beacon of liberty and freedom on the appropriately named Liberty Island overlooking New York Harbor. To gain entry to Liberty Island, you simply take one of several ferries that launch from Battery Park in Lower Manhattan or Liberty State Park in Jersey City. Both ferries also take you to the nearby Ellis Island, making this an official two-for-one tour.
Central Park -- Yet another mecca of New York City tourism, Central Park is 843 acres big, so unless you plan on simply buzzing past it from the backseat of a taxi, be sure to plan enough time to take it all in. Offering much more than meets the eye, Central Park has playgrounds, public theaters, restaurants, a carousel, and its very own zoo.
Times Square -- Located in Midtown Manhattan, Times Square is one of those New York City attractions you simply can't miss. But be warned -- it's been officially named the most visited tourist spot in the world, attracting nearly 40 million people every year. Among the attractions you'll find here are the Disney Store, Planet Hollywood, the Hard Rock Cafe and M&M's World.
Rockefeller Center -- Here, you'll find a stunning wealth of art deco architecture, gorgeous displays of public art, innumerable shopping opportunities, and even ice skating if you come at the right time of year. This is also where you'll find the world famous Radio City Music Hall, where you can take in world class shows any time of year.
Broadway -- Yet another New York City tourism destination for those who love shows is Broadway itself, which has become a word synonymous with world class stage productions. If you plan on taking in a show while you're in town and don't want to be disappointed by encountering sellout performances, be sure to see what's playing ahead of time and reserve your tickets in advance.
Madame Tussaud's Wax Museum -- Located on 42 nd Street near Times Square, Madame Tussaud's is one attraction you won't want to miss while taking in the glitz and glamor of everything The Big Apple has to offer. Not just another silly wax museum, this is one experience that sometimes blurs the line between reality and wax.
The West Village -- When in New York, you'll find yourself doing as New Yorkers do, which means you'll be walking an awful lot. But before you peter out, make sure to save some energy to take a stroll through the West Village, a cobblestone neighborhood of antique brownstone buildings lined with shops and restaurants.
Eat (Everywhere) -- Few New York City attractions are as tasty as those you'll stumble across in your explorations of the city. Tip: come hungry and consider eating small meals. The diversity of restaurants in New York City will have you racing from one location to another to try out the local eats. Fortunately, you'll do enough walking to burn most of those calories off and not return from vacation to an angry stare from your bathroom scales.
New York City-bound and hungry? Best places for pizza in the Big Apple
Content Provided by Spot55.com