Volcano vacations: The best volcanoes to visit in Hawaii
May 23, 2012 at 8:22 a.m.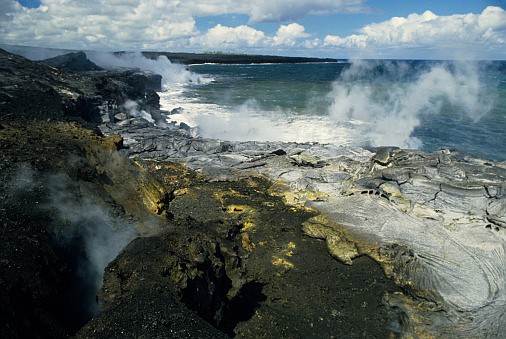 ---
No trip to Hawaii would be complete without a visit to at least one of this island chain's volcanoes. These fiery summits are represented repeatedly in Hawaiian culture and life. There are black sand beaches, lava rock crafts and, of course, Pele the capricious god of the volcanoes. Below are just a few of Hawaii's most accessible volcanoes.
Kilauea. Kilauea is one of five volcanoes that make up the island of Hawaii and is the centerpiece of Hawaii's Volcanoes National Park. One of the most active volcanoes on the planet, Kilauea has erupted 35 times since 1952. The park offers several (safe) viewing areas as well as the Kilauea Visitors Center, which features changing exhibits about the volcano and the animals and planets of the area. Intrepid visitors can hike near the lava flows in the park.
Mauna Loa. Located on the south-central portion of the island of Hawaii, Mauna Loa is the largest volcano on earth. Though still active, this volcano hasn't erupted since 1984 and its activity is much less dramatic and toxic than that of Kilauea. Mauna Loa provides a dramatic backdrop to most of the southern landscape on the island of Hawaii. Enthusiasts can schedule a tour at the Mauna Loa Observatory, which sits near the summit of the volcano.
Mauna Kea. Mauna Kea, located on the north side of the island of Hawaii, is the highest point in the Hawaiian Islands, with an elevation of 33,500 feet. Still considered active, Mauna Kea hasn't erupted for more than 4,600 years. Visitors can enjoy the uncrowded beaches at the foot of the mountain, along the Hamakua coast, as well as hike the Mauna Kea Trail, which begins at the Ellison Onizuka Visitor Center and travels six miles on a gently sloping dirt road to the summit.
Mount Haleakala. One of the most popular activities on the island of Maui is to view the sunrise from atop the 10,230-foot Mount Haleakala. You can also rent a bicycle and glide down the slope, almost to the sea, a breathtakingly beautiful ride. There is a visitors' center and trails of varying difficulty within the 33,265-acre Haleakala National Park.
Everyone who visits Hawaii should visit at least one volcano during their stay. Make sure you include one or more of these imposing beauties on your itinerary.
Content Provided by Spot55.com