Seattle Symphony's acclaimed production of BLUEBEARD'S CASTLE with set design by Dale Chihuly returns to Benaroya Hall for two nights only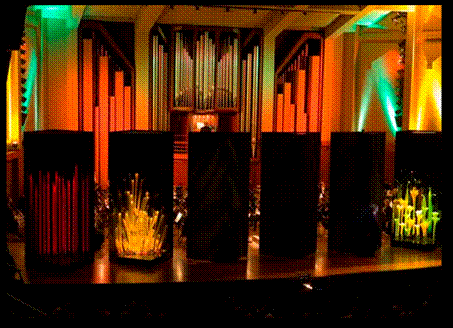 Seattle, WA – The Seattle Symphony's critically acclaimed concert production of Bartok's one-act opera, Bluebeard's Castle - featuring stunning sets by world-renowned artist Dale Chihuly - returns to Seattle for two nights, led by Conductor Laureate Gerard Schwarz. Since the production's premiere in 2007, the sets have traveled as far as Tel Aviv, Israel; on May 15 & 17, 2012, Seattle audiences will have a chance to experience this unique performance in Benaroya Hall.
Bluebeard's Castle is an intense psychological drama that tells the story of Duke Bluebeard, sung by bass-baritone Charles Robert Austin, and his new wife, Judith, sung by mezzo-soprano Nancy Maultsby. During the 60-minute-long piece, Judith's persistent curiosity drives Bluebeard to unlock the doors of his castle, exposing his dark secrets. In the Seattle Symphony's concert production, the action of the plot and the mysteries that lie behind each door are artistically interpreted in glass form by Chihuly, and revealed one by one as the opera moves toward its dramatic conclusion.
Helen M. Szablya, Honorary Hungarian Consul General for Washington, Oregon and Idaho, will read the opening Hungarian narration. The non-speaking roles of Bluebeard's former wives will be portrayed by Seattle Symphony staff members - and recent brides - Amy Bokanev, Kelly Boston and Elizabeth Wormsbecker.
The first half of each performance features a different world premiere of music by an American composer. On Tuesday, May 15, pianist Shai Wosner will perform Michael Hersch's new piano concerto, along the ravines, a piece Wosner personally commissioned with funds from the Borletti Buitoni Trust. On Thursday, soprano Jennifer Zetlan will give the world premiere of Six Concert Arias from David Diamond's The Noblest Game.
WHEN
Tuesday, May 15, 2012, at 7:30 p.m.
Thursday, May 17, 2012, at 7:30 p.m.
WHERE
S. Mark Taper Foundation Auditorium at Benaroya Hall
WHO
Gerard Schwarz, conductor
Shai Wosner, piano (Tuesday only)
Jennifer Zetlan, soprano (Thursday only)
Nancy Maultsby, soprano (Judith)
Charles Robert Austin, bass-baritone (Bluebeard)
Helen M. Szablya, narrator
Seattle Symphony
HOW
Tickets are available from $17 to $74 at www.seattlesymphony.org, by calling the Seattle Symphony Ticket Office at 206-215-4747, or visiting the Ticket Office in Benaroya Hall, on the corner of Union Street and Third Avenue. Ticket Office hours are Monday through Friday, 10 a.m.–6 p.m., and Saturday, 1–6 p.m.
Full program notes, audio samples, artist biographies and additional information can be found by visiting www.seattlesymphony.org.