Spring fashion, styles and accessories for women 55+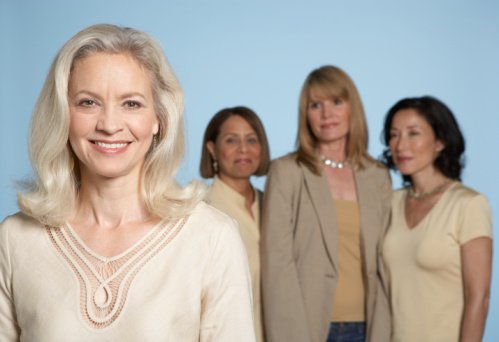 Fashion after 55 can be a tricky topic. With every passing year, it seems like the newest fashions are made for younger and younger women. (Mid-drift tops? Micro skirts? Sheer dresses? Really, designers?) Senior fashion calls for a new level of maturity with a strong dose of sophistication, but that doesn't mean that a wardrobe update is never required after 55. With the right choices, a senior woman can dress in a way that is both chic, practical, and most importantly considered stylish by today's standards. Follow these senior women fashion tips to update your spring wardrobe this year:
Avoid Baggy Clothes
Gaining weight is an unfortunate side effect of aging. The metabolism decreases every year, making it increasingly difficult to keep extra pounds off. Some women, ashamed by weight gain, attempt to hide their bodies under baggy sweatshirts and tent dresses. The temptation to hide the body increases tenfold as Thanksgiving approaches. By Christmas, senior women everywhere are hiding in ugly sweaters. But instead of slimming a woman's figure as intended, baggy clothes simply make the body appear shapeless. It's okay to show off your body, even if it's larger than a size six. Stick to well-tailored clothes that accentuate your favorite body parts. Especially this spring, when classically tailored sportswear is very in, finding that perfect blazer or trench coat in a nice neutral could be the polish you need for every outfit.
Find Inspiration in Fashionable Celebs
Not all fashion mavens are young and lithe. Some of America's favorite celebrities are card-carrying members of AARP. Meryl Streep is a prime example. This talented actress knows how to dress for every occasion. Her outfits typically feature tasteful classics combined with snazzy accessories. Other senior fashion icons include Michelle Pfeiffer, Susan Sarandon, Kim Cattrall, Diane Keaton and Helen Mirren. Searching through Google images of recent photos of these leading ladies can provide good examples of how to mix current and classic trends.
Accessorize!
One of the easiest ways to spice up a dull wardrobe is to invest in a few unique accessories. A senior woman usually has no trouble pulling off the same necklace worn by 20-somethings. It's all about pairing the accessory with the right outfit. If you don't have the cash on hand to purchase new accessories, try looking through your wardrobe. You might already have some great pieces stashed away, just waiting to be shown off. This spring, anything with flowers or in a bold color is modern way to perfect your look. Starting with a statement-making bag could be the first (an easiest) addition to your spring style.
Step Out of Your Comfort Zone
There's nothing that ages a woman more than a worn-out 70s pantsuit. One of the main reasons women get stuck in the past with fashion is that they are too afraid to try out new styles. They may worry that the new styles won't look appropriate on older women. Sometimes, these concerns are well-founded. However, seniors can safely experiment with trends by using them in small doses. For example, color-blocking was a big trend on the spring runways, but going for too many bright hues can be tricky for any age group to figure out. Try starting with two pieces in bright colors and use neutrals for the rest of your outfit. Similarly, 20s style is making a comeback in a major way this spring, but skimpy flapper dresses don't always work on women past 55. Look for other 20s elements like fun beading or a drop-waist silhouette to make a statement without looking like you're wearing a costume for "The Great Gatsby."
Style does not have to vanish when you hit menopause. As with sweets and alcohol, senior fashion simply requires a bit of moderation. This spring, take a little time to update your wardrobe with fun and classy ensembles that take inspiration from new trends, but maintain classic shapes and above all, are fit to perfection.
Content Provided by Spot55.com