Meet Dr. Margaret Read MacDonald, Architect of the PowellsWood Storytelling Festival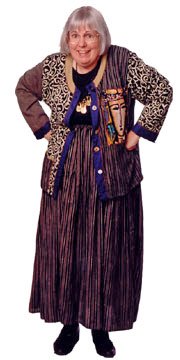 "Pleasures were simpler then," wrote Indiana novelist Booth Tarkington about the waning days of the 19th century. "But that has never meant less pleasure. Life was slower; but that means there was time to enjoy it a little copiously."
Dr. Margaret Read MacDonald travels the world telling stories... and, like Tarkington, she is a Hoosier at heart. And, like fellow Indiana storytellers James Whitcomb Riley, Lew Wallace, Kurt Vonnegut, Theodore Dreiser, George Ade, and even Ernie Pyle, MacDonald is always on the lookout for more great stories to share. She shapes these "found stories" into tellable tales which anyone can share with ease; then, she fills her folktale collections with these winsome yarns. Over the years, she has published dozens of such books.
She hopes that you will read these stories a few times... then put down the book... put down the Kindle or iPad... and just TELL the story to your children. Like Tarkington, MacDonald recognizes that there are pleasures to be had in slowing down, and listening.
To a great degree, the fast-paced entertainment of the 20th century and beyond has spawned the famed "short attention span"—but it has also created a great appetite for the kind of storytelling that MacDonald seeks out and cultivates. Joining her Folklore Ph.D. with her 30-plus years as a children's librarian, MacDonald's books and presentations bring folktales to life in playful, lilting language that amazes both readers and listeners—and now, to the great benefit of the Puget Sound region, MacDonald has lent her experience, knowledge, and talents to the creation of a new annual Storytelling Festival in the wonderful natural setting of PowellsWood Garden.
Drawing on her service with both the Seattle Storyteller's Guild and the National Storytelling Association—not to mention her years as Children's Librarian with King County—MacDonald has recruited a first-rate slate of "tellers" for the workshops and performances coming July 13 and 14 in Federal Way. Donald Davis, Alton Chung, and Eth-Noh-Tec headline a program filled with wit, drama, and pathos. It's a highly entertaining mix.
The passion for the material comes naturally. Even as a child, she says, "my head was full of imaginings and I got myself a notebook and started to write poems and plays of my own. My friends and I could make papier-mâché puppets and act out the plays I wrote." By the time she got to college it dawned on her that the she could make a career out of her passion. "What fun! I got to have a great time every day of my whole life!"
She observes that "people through the ages have told folk tales to each other, and a lot of folk tales talk about things we need to listen to." I had the chance to ask MacDonald some questions last week, and include a transcript of her responses below. Enjoy... and see you at PowellsWood July 13 and 14!
I've read about your thrill of discovering, as a child, the notion of libraries—houses full of books that you could borrow and devour. Did you ever experience a similar sort of storytelling epiphany at some point, where listening to a teller just opened up a whole new world of possibilities for you? Or did the excitement of the oral form just grow on you slowly?