New York City-bound and hungry? Best places for pizza in the Big Apple
June 22, 2012 at 8:02 a.m.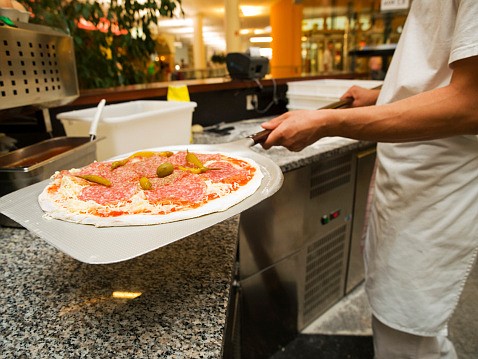 ---
If a trip to New York City is on your travel schedule, not only are you lucky enough to be headed to the greatest city in the world, but you be will surrounded by some of the best food in the world. New York is known for a lot of things: fantastic shopping, historic sites, a magnificent skyline...and pizza! That's right -- no trip to New York City is complete without a sampling of their world famous pizza. If you are looking for cheap food in New York City that tastes like a million bucks, grab a slice and you will be hooked.
The big question is -- who really has the best pizza in New York City? Everyone has their favorite, but I suppose if you are looking for the best pizza in New York City, it really depends on what you are looking for in a slice. In fact, the best cheap food in New York City may be a slice of plain cheese, a veggie lovers' delight, a classic pepperoni, or a square slice of traditional Sicilian.
The good folks at Serious Eats, a website focused on celebrating and sharing food enthusiasm, dove into the daunting but delicious task of selecting the best pizza in New York City. There were a lot of criteria considered when narrowing down the search for the best of the best, but it all boiled down to how the pizza pie tasted.
The winners of the "Best Pizza in New York City" came from various pizzerias from many different boroughs in the city, ranging from newly established restaurants to 80 year old pizza restaurant icons. Try a slice of each during your visit to New York City and decide for yourself!
The 10 best pizzas in New York City
Motorino's Pizza, Brooklyn: The brussels sprout and pancetta pie
Di Fara's, Brooklyn: Sicilian square pie
Paulie Gee's, Brooklyn: The anise and anephew pie
Pier 76, Staten Island: Vodka pie
Totonno's, Brooklyn: Coal-fired pie
Sal & Carmine's, Manhattan: Cheese slice
L & B Spumoni Gardens, Brooklyn: Sicilian slice
Best Pizza, Brooklyn: Pickled vegetable pizza
Artichoke Basille's, Manhattan: Grandma slice
Patsy's, Manhattan: Coal-fired slice
Content Provided by Spot55.com
View and download this publication.
---
Inspire Positive Aging Award Winners!
The recipients of Sound Generations' 2022 Inspire Positive Aging Awards were celebrated at a June 16 luncheon.
---
A Birthday Gift Safety Manuel
I'm sure most men would agree that buying a birthday gift for your wife is fraught with danger
---
Filipino Village and Senior Housing Community Opens
Seattle's Filipino Community Village and affordable senior housing project opened in June
---
Where in Washington?
And the winner is...
---
Mt Si at Midnight
My best friend, Miggs, loved to climb and coaxed me up anything that was a hill if she could catch me in an unguarded moment. I hated a stiff climb, as even in those long-ago days I was plagued by shortness of breath. She could talk me into the effort by reminding me of how wonderful the view would be from the top. I have always been a push-over for a view.
---