Plotting your crab cake vacation: What to see and do in Baltimore
June 8, 2012 at 8:22 a.m.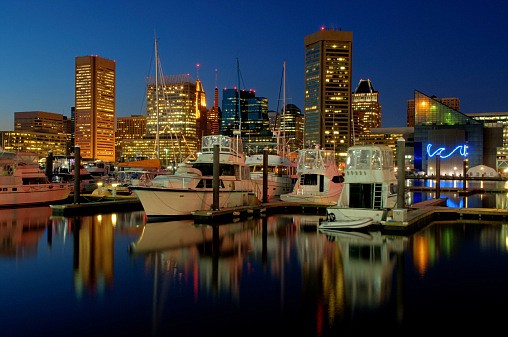 ---
Baltimore, located along the Chesapeake Bay, north of Washington D.C., makes an affordable and fun weekend getaway destination. In addition to featuring fresh seafood right from the Bay, Maryland's largest city offers a myriad of fun and interesting things to see and do. Below are a few of our favorites:
Inner Harbor. One of the best designed and most thriving waterfront developments in the United States, Baltimore's Inner Harbor combines shopping and restaurants with historic ships and a variety of maritime and other museums. Visitors to the city could spend an entire weekend at the Harbor and not come close to running out of things to do.
National Aquarium. Located at the Inner Harbor, the National Aquarium has been rated the number one aquarium in the United States by several publications, including Coastal Living magazine. The facility, which sits at the water's edge, houses more than 11,000 sea creatures of 660 species. The aquarium is open daily and offers a discount to visitors age 60 and older.
Fort McHenry National Monument and Historic Site. Fort McHenry, located in Baltimore Harbor, was the site that inspired the writing of the "Star Spangled Banner" during the War of 1812. Today, the star-shaped fort is open to the public and visitors can take a water taxi from the Inner Harbor and walk the fort's ramparts and see where that fateful flag flew. The site is open daily, except for major holidays.
The Walters Art Museum. Located in Baltimore's Mount Vernon neighborhood (north of downtown), the Walters Art Museum features art from periods spanning 55 centuries. Highlights include Egyptian mummies, art nouveau jewelry, Medieval armor, 19th century Impressionist paintings and Faberge eggs. The museum is open Wednesday through Sunday and admission is free.
No matter where your interests lie, Baltimore offers something of fun to do. Perhaps it's time to add this vibrant, coastal city to your summer plans?
Content Provided by Spot55.com
View and download this publication.
---
Inspire Positive Aging Award Winners!
The recipients of Sound Generations' 2022 Inspire Positive Aging Awards were celebrated at a June 16 luncheon.
---
A Birthday Gift Safety Manuel
I'm sure most men would agree that buying a birthday gift for your wife is fraught with danger
---
Filipino Village and Senior Housing Community Opens
Seattle's Filipino Community Village and affordable senior housing project opened in June
---
Where in Washington?
And the winner is...
---
Mt Si at Midnight
My best friend, Miggs, loved to climb and coaxed me up anything that was a hill if she could catch me in an unguarded moment. I hated a stiff climb, as even in those long-ago days I was plagued by shortness of breath. She could talk me into the effort by reminding me of how wonderful the view would be from the top. I have always been a push-over for a view.
---