Where to go and how to handle yourself on your RV excursion to Baja Mexico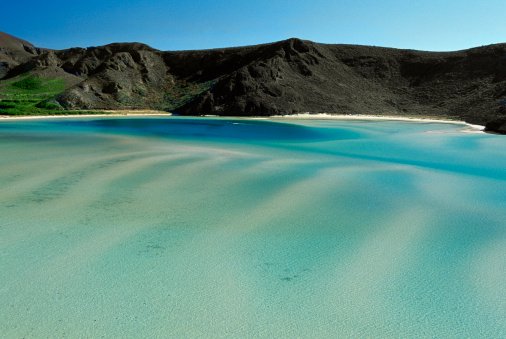 If you're planning an RV trip to Mexico for your summer vacation, there's perhaps no better or more beautiful place to visit than Baja. The Baja peninsula is a 775-mile stretch of land that extends from California's southern border near Mexicali, all the way down to Cabo San Lucas. On the west coast of the peninsula is the Pacific Ocean. On its east coast, the Sea of Cortez. Before you hit the road for your RV trip to Mexico, consider the following points of interest and tips on how to handle yourself while you're paying a visit to our southern neighbor.
Where to Go
There are a vast number of places to visit in Baja, California -- but there are some that you shouldn't miss. Here's a list of some of the best sites in Baja, guaranteed to blow you away with their stunning beauty and filling innumerable rolls of film along the way.
Rosarito Beach -- Only 18 miles south of the border city of Tijuana, Rosarito Beach is one of the newest and fastest growing cities in the region, boasting a colorful blend of contemporary sporting activities and uniquely Mexican cultural events.
San Felipe -- Located on the eastern coast of Baja on the Sea of Cortez, San Felipe is a great place to stop and experience fishing the way the locals do it, by hitching a ride out on the water with local fishermen. If you're not into getting a hands-on experience, you can spend hours visiting the waterfront area where you'll find an ample number of restaurants and cantinas to enjoy.
La Paz -- The capital city of Baja California is located on the south end of the peninsula on the eastern coast, offering a contrasting experience to that which you'll find in neighboring Cabo San Lucas. Here, you'll find some of the most gorgeous beaches and a welcome, relaxed vibe.
Planning Ahead and Handling Yourself
Now that you've got a short list of some of the best sites in Baja to visit, it's important to prepare for your RV excursion to ensure that you get there and back safe and sound without incident. Here are a few helpful road tips.
Be sure you have a passport and tourist visa with you at all times. Since you'll be piloting yourself in your RV, you'll also need to secure auto insurance for traveling on the Mexican roadways.
Keep your gas tank full. RVs can be gas guzzlers and there can be great distances between major cities in Baja.
Make reservations ahead of time if you plan on staying at a resort or hotel. Of course, the best part about an RV vacation is that you're bringing your bed along with you -- but never assume that you'll be able to find a bed on short notice if you want to get in a little "Rest and Relax" at a beach resort.
Remember, you're in a foreign country. If you're stopped at a military checkpoint or by the local police, don't give the authorities any cause to detain you. Although the chances of this happening are highly unlikely, that last thing you want is to have you vacation ruined simply for expressing attitude or impatience.
Content Provided by Spot55.com