Aging Creatively in Seattle
Cheryl Brown, Recreation Specialist, Seattle Parks and Recreation / Lifelong Recreation Program | Jul 3, 2012, 12:35 p.m.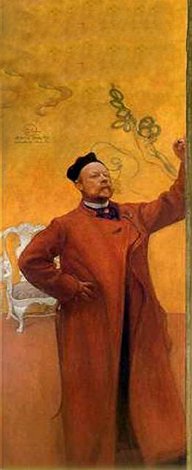 Recent studies prove that engaging in the arts and creative activities has important lifelong benefits, equal to the importance of physical activity. Creativity improves morale as we age, enhances physical health and enriches relationships. Through creativity, the expertise gained with aging has the potential to offset the complications of aging.

In a 2001 study initiated by the National Endowment for the Arts (NEA) Dr. Gene Cohen led a multi-year study evaluating the effects of participating in cultural programs on older adults' mental and general health, overall functioning and sense of well-being. The programs involved a range of art disciplines, including painting, pottery, dance, music, poetry, and drama.
The study included some 300 adults with the median age of 80, half who were involved in ongoing arts programs several times a week and half who were not. The findings were statistically significant and demonstrated that those involved in arts programs had:
• Better overall health
• Fewer doctor visits
• Less medication usage
• Less incidence of depression
• Increased activities and social engagement.
Practicing ongoing artistic activity is an effective way to nurture creativity in everyone, especially as we age and gain in our life experiences. Older adults are examining their past, coming to terms with losses and celebrating their successes. Channeling this reminiscence into creativity can create a great legacy of culture, history and values to pass on to the next generation.

At Seattle Parks and Recreation Lifelong Recreation there are many opportunities to exercise your creativity. We offer many arts programs on a quarterly basis including watercolor, photography, drawing, writing, Seniors Making Art, Readers Theater, and more. These programs can be accessed at www.seattle.gov/parks or by calling 206-386-9106.
Cheryl Brown is a 20 year veteran of Seattle Parks and Recreation. She is a Recreation Specialist for Lifelong Recreation in the Northeast sector of Seattle. Her life interests have been centered on the arts as a quilter, collage artist and former owner of a craft gallery. Practicing ongoing artistic activity is an effective way to nurture creativity in everyone, especially as we age and gain in our life experiences. When nurtured, it can be a great legacy since historically it is the elders who hold the culture and pass on history and values to the next generation.
Seniors Making Art is a frequent partner. Founded in 1991 by Dale Chilhuly, this program has a mission of engaging seniors in something meaningful that they can do for the rest of their lives. Their philosophy is that anyone can make art as long as they have imagination and life experiences to draw on. The program hosts arts classes in many mediums in the Puget Sound area at retirement homes, senior's centers and Seattle Parks and Recreation Community Centers. Professional artists teach the programs, and both instruction and materials are free of charge to the participants. Seniors Making Art has served over 41,000 seniors to date.
One of Lifelong Recreations' premier programs is Readers Theater. Offering two productions per year, this drama program engages seasoned actors and those who have never been on the stage in an opportunity to perform without the obligation of memorization. Actors present materials geared towards or about aging. A recent production of "Arsenic and Old Lace" played to two sold out audiences, and the fall production of "It's A Wonderful Life" promises to be a hit. All productions of Readers Theater seek to provide an outlet for memories, reflections and sharing of wisdom gained in aging.
Both mental and physical health are improved through participating in arts programs. Take charge of your health and get involved today!