96-Year-Old "Tech Whiz" Receives Inspire Positive Aging Award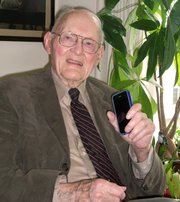 Not your average 96-year-old, Bill Sleeper has turned a lifetime of curiosity and expertise in engineering into a later-life career introducing fellow seniors to the i-world of iPod, iPhone, and iPad. "I find that many seniors are scared of using smart phones or computers and I want to show them how easy it is and how much fun you can have," says Bill. "With a smart phone, you have the complete information of the world in your hands. It really is magic."
The retirement community where Bill resides has supported him by organizing speaking engagements and recording videos of his classes. Bill travels throughout the Puget Sound region, inspiring his students with his sharp wit and sense of humor. Seniors relate to his teaching style when Bill tells them that all they need to get started is a finger.
Bill's understanding of technology is particularly impressive when one considers the fact that he was already 60 when Microsoft was formed. Bill is happy that today's electronic gadgets allow him to be constantly in touch with his kids and grandkids, and strongly believes that the Internet offers seniors excellent opportunities to engage with society and stay mentally stimulated. "Get with it kiddo!" says Sleeper at the end of each instructional video as he encourages seniors to give technology a try.
Bill Sleeper is the oldest member of the Seattle Social Media Club. His story has been featured on King 5, KCPQ, and KIRO Radio. His teaching videos can be seen on the Merrill Gardens' website and Facebook page.
This article appeared in the July/August 2012 issue of Northwest Prime Time, the Puget Sound region's monthly publication celebrating life after 50.