The top 10 most scenic drives in the U.S.
January 24, 2012 at 8:27 a.m.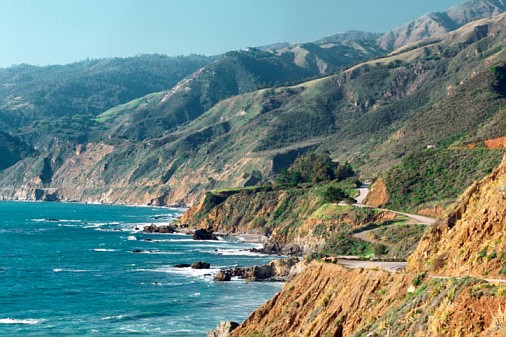 ---
Who doesn't love a great road trip, whether it's an impromptu one or a well-planned excursion -- whether it's a 10-mile ride or a thousand-mile journey? No matter where you end up taking your vacation, there will always be opportunities for scenic drives, even if you're not aware they're there. The trick is to keep your eyes open. Reviewing our list of the top 10 most scenic trips in the U.S. also won't hurt matters.
The I-17 from Flagstaff to Phoenix -- This near 150 mile drive takes you through some of the most beautiful red-rock scenery you'll ever lay your eyes on. Be sure to swing by the Montezuma Castle National Monument, a thousand-year-old cliff dwelling built by Native Americans.
Hawaii's Hana Highway -- Just because you're vacationing in Hawaii doesn't mean you won't find opportunities to take scenic drives for all the sunbathing you'll be doing. In fact, the state is full of them, with Maui's Hana Highway being at the top of that list.
California's Highway 1 -- If you've ever seen a movie that takes place along the California coast you're probably already well familiar with the beauty that exists here, but there's nothing quite like taking an actual drive on the incredibly scenic Highway 1 to put all movie memories to shame.
17 Mile Drive -- If you want to talk about scenic trips to take if you're visiting the California coast near Carmel, it doesn't get much better than this. There's a cost of $9.50 for entry, though, so don't forget to bring some spending cash otherwise you'll be forced to go without this incredible coastal drive.
Million Dollar Highway -- When you're in western Colorado, take advantage of one of the most famous scenic drives in the country, the Million Dollar Highway. But bring your nerve. This drive takes you through Colorado's mountain passes and provides some breathtaking views and often nerve-wracking curves.
U.S. Route 1 -- If your vacation plans take you to New England, you could do a lot worse than to take a scenic drive through U.S. Route 1, which traverses five states and has been likened to a moving history lesson.
The I-78 in New Jersey -- If cityscapes are your thing and you're up for one of the most scenic trips in the New Jersey area, hop onto the I-78 between the Newark Airport and the Holland Tunnel, where a ride on the elevated highway will give you a clear view of the equally impressive skylines of Jersey City and Manhattan a bit further away.
The Blue Ridge Parkway -- Running for 469 miles across the Blue Ridge mountain chain of the Appalachian Mountains, you'll discover plenty to see and numerous photo opportunities on what's been called "America's Favorite Drive." We think it'll rank high on your list of faves too.
Highway 12 -- You know you're in for one of the most scenic trips of your life when the road you're traveling has been designated one of a small handful of "All-American Roads." In the case of Highway 12, which runs through Southern Utah, the wealth of natural rugged beauty you'll encounter won't leave you disappointed.
I-84 in Oregon -- The state of Oregon is one of the most beautiful in the nation, and for evidence of that all you have to do is take the 80-mile drive on I-84 from Portland to The Dalles, where you'll find ample opportunity to pull over and get a close up view of beautiful natural waterfalls.
Content Provided by Spot55.com