Cruise prep: Top 10 things to pack before going afloat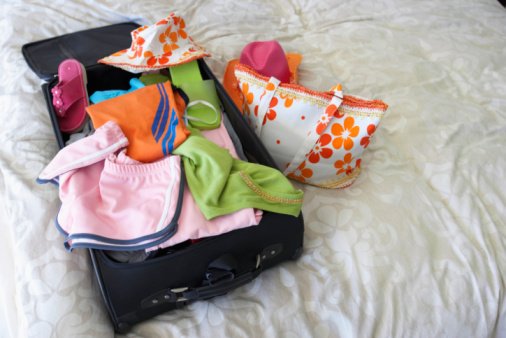 Packing for family cruises isn't as easy as just throwing your swimwear into a suitcase and calling it good. There's a bit of planning that has to go into vacation cruises and quite a number of things you might not think about, especially if you're a first timer. If there are only days separating you from home and your favorite cruise line, refer to the list below to make sure you won't forget something important.
Documentation. You'll need to bring your cruise ticket and itinerary, of course, but in addition to that, depending on where you're going you may need a passport, travel visa, or proof of citizenship to return home. Also, don't forget to bring important health information like a quick list of any health conditions and prescriptions that you take, in the event of an emergency. You should also make a list of emergency phone numbers for yourself.
Medications. If you take daily pills or are under a prescription plan, be sure that you bring along enough to last you the duration of the cruise.
Motion sickness pills. Remember, you're on a moving boat. Besides, how fun would it be to spend the majority of your vacation seasick?
Swimwear. Although you won't be diving overboard to take in the waves, there will be plenty of on-board opportunities to take a dip.
Layers of clothes. Just because you departed in perfect 70 degree weather doesn't mean that you won't experience a substantial drop in temperature or a change in weather that'll make you wish you'd brought more clothing along. Come prepared with sweaters and long pants and even a windbreaker so you don't wind up having to pay a small ransom buying warmth from the cruise line gift shops.
Alarm clock. Vacation cruises are no time to snooze the day away, although it's up to you how you spend your time. But remember that being on a cruise ship, you may lose track of time, and without an in-room alarm clock to get you up at certain hours you might miss a few meals and fun events.
Compact power strip. You don't want to rely on the cruise line of your choice offering rooms with enough power outlets to meet your needs. You will need power outlets for a number of your travel accessories, from cell phone and eReader chargers to laptop computers and alarm clocks.
Reading and writing materials. If you're not an owner of one of the aforementioned eReaders, you may want to bring along a few of your favorite magazines or books so you'll have something to keep you occupied while you take in the rays by the pool.
Camera equipment. Although vacation cruises are best experienced than recorded, you'll want to take enough snapshots and even video to show everyone what a great time you had -- and to have a record to revisit the experience later on.
Toiletries. These are the easiest things to forget: toothbrush, toothpaste, floss, favorite soap, shampoos, and deodorants. Sure, you can buy all of them in the various cruise line shops, but they'll cost you much more than you should feel comfortable paying.
Content Provided by Spot55.com