Symptoms and signs of breast cancer
August 31, 2012 at 8:15 a.m.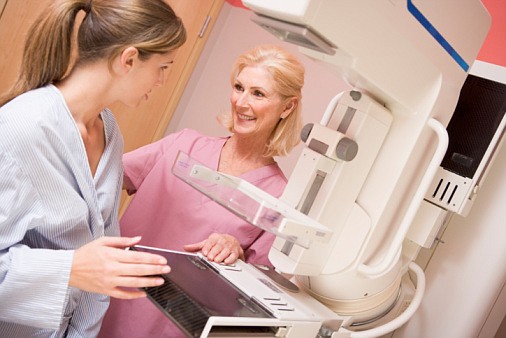 ---
Breast cancer signs and symptoms can vary, from small lumps in the breast and underarms to skin changes or swelling. Sometimes the symptoms are not even obvious and it is for this one reason alone that women are encouraged to have yearly mammograms.
A self-exam remains the best detection of breast cancer early symptoms and should become a part of a monthly routine of health care. Consult a doctor if any changes are detected in the breasts. If you have a family history of cancer and are over 40 years of age, a yearly mammogram is an important step in detecting any early signs of breast cancer.
Any abnormalities will be visible through a mammogram and will usually lead to further testing. Many times a lump or mass will be hard and painless, however, cancer can fool you and can also present symptoms of tenderness with a soft, rounded tissue area.
According to the American Cancer Society, any of the following symptoms can signal breast cancer and should be examined as soon as possible:
breast pain
skin irritation
swelling of part or all of the breast
redness or thickening of the skin
any lump, including in the underarm area
any discharges from the nipple
These symptoms can also signal many non-cancerous conditions that can be easily treated, but it is important to be examined by a physician. An actual diagnosis can take several weeks and will usually involve several different kinds of medical tests.
While waiting for a diagnosis can be stressful and mentally difficult, it is a good idea to have a good treatment plan in place that is tailored with your good health in mind. Knowing breast cancer signs and symptoms and being aware of what your body is telling you can put you in a position of survival and recovery with the advice and treatment of a medical professional.
Content Provided by Spot55.com
View and download this publication.
---
Inspire Positive Aging Award Winners!
The recipients of Sound Generations' 2022 Inspire Positive Aging Awards were celebrated at a June 16 luncheon.
---
A Birthday Gift Safety Manuel
I'm sure most men would agree that buying a birthday gift for your wife is fraught with danger
---
Filipino Village and Senior Housing Community Opens
Seattle's Filipino Community Village and affordable senior housing project opened in June
---
Where in Washington?
And the winner is...
---
Mt Si at Midnight
My best friend, Miggs, loved to climb and coaxed me up anything that was a hill if she could catch me in an unguarded moment. I hated a stiff climb, as even in those long-ago days I was plagued by shortness of breath. She could talk me into the effort by reminding me of how wonderful the view would be from the top. I have always been a push-over for a view.
---