Best places to visit this Fall
August 21, 2012 at 8:37 a.m.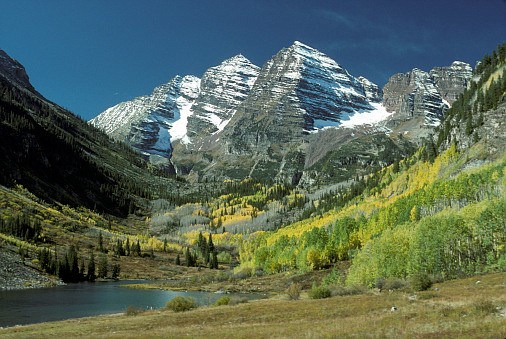 ---
Searching for the best places to go in October won't be disappointing in any of these destinations. Fall vacation packages are some of the best of the year, offering scenery and foliage that is ablaze and just waiting to be enjoyed.
Maroon Bells
Some of the most beautiful fall foliage in the country is set in the mountains of Colorado and known as Maroon Bells. The trails ascend more than 12,000 feet in elevation. Nestled at the peaks are the hot springs of Conundrum Creek, complete with the splendor of the surrounding wilderness. The twin peaks of Maroon Bells come alive in the fall and offer fall beauty for all to see.
Smoky Mountains National Park
One of my favorite places to see in North Carolina and Tennessee are the Smoky Mountains that continually offer some great sites sprinkled with fall foliage along each ridge. These are protected areas and are world renown for the diversity of animal and plant life. This national park attracts millions of visitors each year and offers campsites, parks and viewing areas, along with more than 800 miles of trails.
Lake Champlain
Instead of driving or hiking your chosen site, consider grabbing a fishing pole and taking a boat tour in upstate New York to view some of the grandest foliage in the country. This area is a water lover's dream offering comfortable temperatures, breezes and spectacular foliage in October. The lake also offers more than 60 species of fish which keeps the anglers happy, not to mention the historical lighthouses, beaches and great restaurants that hug the shoreline.
The Mohawk Trail
One of the oldest designated routes in the U.S., offering scenic drives where Native Americans once lived, these areas through New England evolved into Boston and Deerfield. Even with modern modes of transportation, the scenic beauty still adorning the area is much the same as centuries ago.
Blue Ridge Parkway
One of America's favorite drives, this part of the national park system provides stunning close-up views of the southern-most Appalachian mountains. This 469-mile drive connects to the Great Smoky Mountains National Parks and the Shenandoah Mountains. It offers an abundance of opportunities to stop along the way, camp or picnic at the overlooks. The fall foliage is breathtaking along this parkway, making it a favorite year after year.
The North Woods
Known as "God's Country," this drive through Wisconsin will cross the Fox River where you will see the sights and sounds of fall come alive. This is a popular getaway during October and will offer views that will be unforgettable along the river's edge, offering an abundance of fall beauty. Wildlife is plentiful and offer visitors an extra special treat since many are moving in the early nippy fall weather.
Wherever you choose to spend your time, the best places to go in October are always open and welcome visitors to their beautiful sites for some lasting memories.
Content Provided by Spot55.com
View and download this publication.
---
Inspire Positive Aging Award Winners!
The recipients of Sound Generations' 2022 Inspire Positive Aging Awards were celebrated at a June 16 luncheon.
---
A Birthday Gift Safety Manuel
I'm sure most men would agree that buying a birthday gift for your wife is fraught with danger
---
Filipino Village and Senior Housing Community Opens
Seattle's Filipino Community Village and affordable senior housing project opened in June
---
Where in Washington?
And the winner is...
---
Mt Si at Midnight
My best friend, Miggs, loved to climb and coaxed me up anything that was a hill if she could catch me in an unguarded moment. I hated a stiff climb, as even in those long-ago days I was plagued by shortness of breath. She could talk me into the effort by reminding me of how wonderful the view would be from the top. I have always been a push-over for a view.
---