Avoiding fashion disasters for the over-50 lady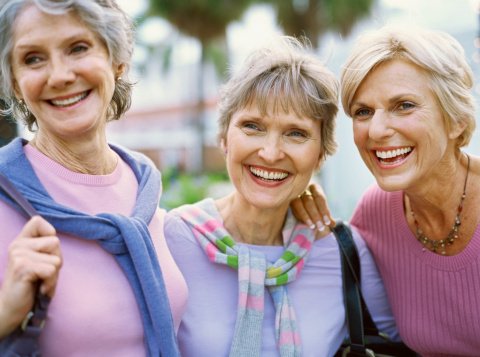 Although we say, "age isn't a number, it's a state of mind," unfortunately this does not hold completely true when talking about fashion for women over 50. Turning 50 doesn't mean you have to look like an old schoolmarm with no fashion sense or a high collar all the way up to your ears. You can find an over-50 fashion style that works well for you and shows off the woman you have gracefully aged to be.
There is nothing more inappropriate and mind boggling than a 60-year-old woman in skinny jeans, a tank top, and stilettos, yet we have all seen these unknowing women strutting their stuff. Ladies, please avoid this major fashion disaster (and a few snickers as you pass by), and get the respect you deserve by dressing the wonderful age that you now are. Fashion styles for women over 50 should exude the confidence your age and experience has earned you. Wear it proudly!
Fashion for women over 50 is more sassy and trendy than it has ever been; a lady just has to know what is appropriate. There is nothing wrong at all with following the latest fashion trends and wearing stylish clothes, the key to fashion styles for women over 50 is to dress so that you represent classic good looks as your fashion statement. Choosing clothes that you feel good in and that shows you are comfortable with your age and body is the statement you want to project to look and feel your best.
A good rule of fashion for women over 50 is to choose clothing for your wardrobe that has fabrics you love, classic lines and style, as well as versatility. Selecting the right fabric for your clothes is crucial. Choosing clothes made from more luxurious fabrics offers a timeless and classic look that shows style and confidence. Choose dresses and sweaters made from silk or cashmere for wonderful style. For a crisp and clean look, pants, jackets, and dresses made from linen are the perfect choice. Cotton, rayon and silk are also excellent choices for tops, dresses and skirts.
Fashion styles for women over 50 should also flatter the body and accentuate your best features. Women over 50 should stay away from plunging necklines, sleeveless tops, and thigh high dresses and skirts. Instead opt for tops with sleeves, scoop necklines, and hemlines that are two to three inches above your knee.
Functionality is also key in selecting fashion styles for women over 50. Wearing the appropriate clothing to an event shows people who you are -- a confident over 50 lady who has style and isn't afraid to show it! A sweater set paired with khakis or crisp capri pants in the summer is great for informal get togethers and events. A sporty athletic suit works well for a day at the park or your favorite sporting event. Tailored suits, a casual dress with a stylish scarf, or A-line skirts are also must-have wardrobe staples for the over 50 fashionista.
Most importantly, be creative and have fun with your new look. After all, you're never completely dressed without a smile!
Content Provided by Spot55.com