Avoiding home repair rip-offs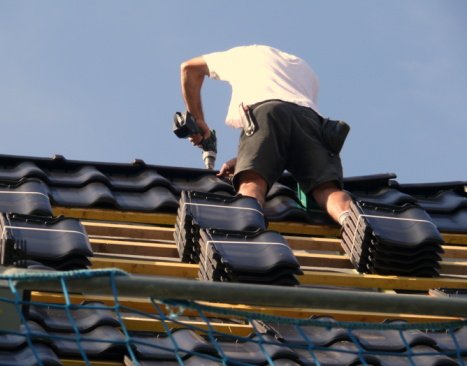 Let a group conversation turn toward home repair tips, and soon the discussion will include unhappy stories of home repair rip-offs. Every seasoned homeowner has tasted the expense of unnecessary and costly home repairs. It is all part of the ongoing scams that plague this nation.
Here are some come common scams, how scammers work the public, and what you can do to avoid home repair rip-offs.
Leftover Asphalt Paving Scam:
Someone shows up uninvited at your front door. He or she claims to have extra asphalt from a job down the road. The company wants to pour you a new, three-inch thick driveway for a fraction of the standard costs. This company claims a need to save the expense of hauling and dumping the excess materials. This means that you can reap the benefits of the material miscalculations.
Here's what happens. Legitimate driveway contractors measure driveway thickness after the material is compacted, pressed down, vibrated and fully finished. The scam artist measures the thickness based upon the loosely poured asphalt granules. The finished difference in thickness is about one inch. You end up with a driveway that will not endure the long-term weight of your vehicles.
Home repair tips number one: Before embarking on any costly home repairs, take time to learn the definitions of basic terminology as it applies to the project.
Excess Driveway Sealant Rip-off:
The scenario begins just like the paving scam. Only the materials change. Because of some foolish miscalculation, the company wants to give you a great deal on resealing your asphalt driveway. When they finish, the job looks beautiful and the driveway shines. It just needs time to dry.
The catch: Your driveway just got coated with used motor oil.
Home repair tips number two: Examine the supplier's materials. Ensure that you are getting what is promised and watch that what you examined is actually used for the project.
Makeover Roofing Scams:
When considering how to avoid home repair rip-offs that involve roofing services, many homeowners tend to think that roofing theft is based upon up-front payments for unfinished work. Yet shoddy work is really the major complaint.
Here is how it happens: You pay to have old roofing materials stripped away and replaced with new materials, but the contractor ends up tacking new roofing over old shingles.
Home repair tips number three: Observe the signs of construction debris. From inside remodeling to roof replacement, visible wreckage accumulates.
Inspection Roofing Scams:
Windstorms, rain and hail generate the need for many costly home repairs. Many fly-by-night roofing firms follow the trail of damage. Sometimes these companies offer reduced prices, perform excellent work, and finish on time.
Here is the catch: When the company's inspector first arrived, your roof did not need repair. After convincing you to permit access to your roof, the contractor created faults that mimic storm damage.
Home repair tips number four: If you suspect storm damage to your home, let your insurance agent suggest a reputable repair source.
Avoid Costly Home Repairs and Rip-offs:
Home repair scammers often target senior citizens. The representatives come on strong and dress well. They speak in the language of educated people and they know how to push emotional buttons. The company lacks a local address. The presented phone numbers are cell phone based rather than land lines. The services are marketed door-to-door. Every job is presented in a manner that incites a sense of urgency for the repair.
To avoid home repair rip-offs, ask for and check references. Call the BBB. Wait a week or so before making a decision.
Content Provided by Spot55.com