After 3 years, Boeing Dreamliner becomes reality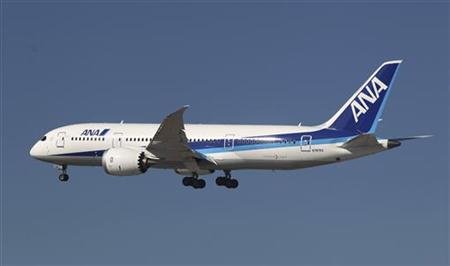 By Tim Hepher
SEATTLE (Reuters) - Boeing's long-awaited dream machine became a commercial reality on Sunday when the lightweight plastic-composites 787 Dreamliner was formally delivered to its first Japanese customer.
Boeing says the revolutionary carbon fiber design will hand 20 percent fuel savings to airlines struggling to avoid a new recession, and give passengers a more comfortable ride with better cabin air and large electronically dimmable windows.
The first $200 million aircraft was handed over to Japanese carrier All Nippon Airways three years behind schedule after persistent delays that cost Boeing billions of dollars.
"It took a lot of hard work to get to this day," said Scott Fancher, vice president and general manager of the 787 program, at the outset of two days of celebrations at the plane's Seattle production plant.
The blue and white-painted long-range aircraft, which boasts a graceful new design with raked wingtips, will leave for Japan on Tuesday and enter service domestically on October 26.
Boeing has taken orders for 821 Dreamliners, which will compete with the future Airbus A350, due in 2013.
The much-anticipated handover came a week after another major first delivery -- the 747-8 Freighter -- was abruptly postponed in a contract dispute with the customer. ANA, the world's ninth largest airline by revenues, plans to coax the airplane into service on domestic routes before putting it on longer international routes like Frankfurt, Germany.
The aircraft goes 52 percent further than the all-metal Boeing 767 which it is designed to replace while using 20 percent less fuel for the distance flown, an ANA executive said.
In a classic roll of the dice in the high-stakes aerospace industry, Boeing abandoned plans for a sound barrier-chasing "Sonic Cruiser" a decade ago and worked on lighter long-range jets as cash-starved airlines valued efficiency over speed.
The resulting composites-based technology proved popular with airlines, forcing Airbus to turn its back on the aluminum airframe for its next generation of jets. Boeing expects this to become the standard for future passenger planes.
"Technology will only get more efficient and lighter," said the 787 program's chief project engineer Mike Sinnett.
BUYER CONFIDENT ON RAMP-UP
The plane's lighter weight allows airlines to operate routes even when the demand is insufficient for larger aircraft like the Boeing 777 or 747, or the Airbus 380 superjumbo.
"For aviation we believe this is as important as the 707 was with the introduction of the jet age," Fancher said.
He moved to head off any fears over the new materials, stressing tough composites were nothing like ordinary plastic.
"Plastic is what you have on the dashboard of your car. This is not plastic," he told reporters.
The 787 development program has been delayed seven times due to challenges with engineering, supply chain glitches and a 58-day labor strike in 2008. [ID:nS1E78O09V]
"We have been waiting for the 787 for over 3 years as we expected it in the summer of 2008," said senior vice president Satoru Fujiki who took part in negotiations to buy the 787.